Connect your own router to your Google Fiber network
The Wi-Fi router included in your Google Fiber service was chosen to deliver the best performance for your home network with your Google Fiber connection. Residential customers with 1 Gig or 2 Gig plans are eligible to use their own router rather than the one we provide. If you're a 1 Gig or 2 Gig customer and would prefer to use your own router, here's what you need to consider, as well as what you need to get connected.
You can make the switch from using one of our routers to using your own by signing into your account. Here's how:
Sign into your Google Fiber account
Click the box next to "I'll provide my own router." You'll be asked to provide the make and model, which is totally optional.
Click OK at the bottom of the page.
For 2 Gig customers, follow the instructions
here
to use bridge mode.
That's all! You're ready to set up your own router now. Curious about how to set it up? You can connect it by following the instructions below.
Things to consider when using your own wireless router
If you want to use your own router, consider the following:
Connecting your own router requires advanced networking experience. If you don't consider yourself an advanced user, we don't recommend choosing this configuration.

Any externally facing network configurations (such as port forwarding and firewalls) need to be configured on your own router. Learn more about configuring port forwarding and configuring your firewall.

Any internally facing network configurations (such as specifying your Wi-Fi network name or password) can be configured on your router.
What you need to get connected
Google Fiber plan that supports using your router
Sign up for a new internet plan that supports using your own router or switch your plan to one that uses your router. Don't have this yet? Change your plan to get started.
Fiber Jack or ethernet port
A Google Fiber Installation Specialist has already installed your Fiber Jack. If you live in an apartment and don't see a Fiber Jack, look for an ethernet wall plate.
Ethernet cable
You need one ethernet cable to get you set up.
Fiber Jack power adapter
This powers your Fiber Jack. If you don't currently have one, Google Fiber's customer support and we'll get one sent to you.
Your router
Ensure that your router meets the following specifications:

Wi-Fi 5 (802.11ac) or Wi-Fi 6 (802.11ax)
Supports gigabit wired speeds
1000Base-T or faster ethernet port for internet connection
1000Base-T or faster ethernet port for local network
Minimum WPA2 Security
Ready to begin using your own router? You can connect it by following the instructions below.
1. Find your Fiber Jack
Usually you'll find the Fiber Jack on a wall in your living room. If it's not there, you might find it in some out-of-the- way spot like a closet, behind a couch, or in the garage.
Connect the Fiber Jack power adapter from the Fiber Jack to a wall outlet. When connected properly, your Fiber Jack will flash red until ready. If the light doesn't turn blue after 15 minutes, please contact our customer support.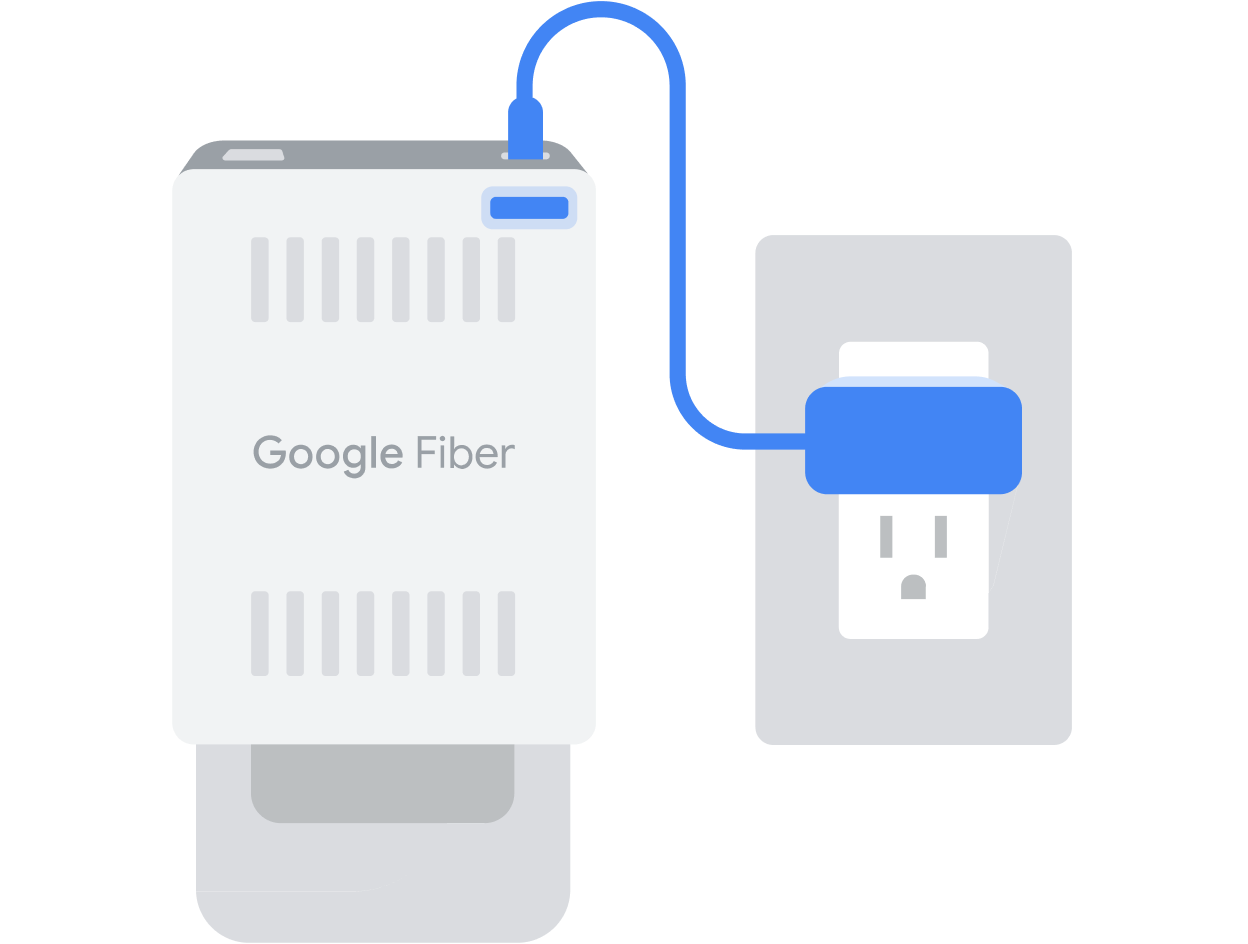 Don't see a Fiber Jack? Find and take note of the location of your ethernet wall plate. Usually you'll find it on a wall near your TV.
2. Connect your router
Connect your router's power adapter to an outlet. Then, connect one end of an ethernet cable to your Fiber Jack, and the other end to the WAN port on your router. Your router will give an indication that it's powered on and getting data from the Fiber Jack.
Don't see a Fiber Jack?
Run an ethernet cable from your router to the top ethernet port on the wall plate.
3. Set up your router
Follow the manufacturer's instructions to get set up. We're always happy to help you with connection issues, but since it's your router, we're not able to help with its setup.
4. Enjoy your internet
You're all set to connect your devices and enjoy your new Google Fiber internet!
5. Download the Google Fiber app
The Google Fiber app lets you manage your account from one place. You can view and pay your bill, run speed tests, see plan details, and find answers via our Help Center.
Download it for free on the
Google Play Store
or
Apple App Store
.
Returning your Google Fiber equipment
Once you swap out your router, you won't need your old one anymore. To return your equipment, we have three convenient options available:
Drop your equipment off to a Fedex Office store
Self-Ship your equipment
Return to your local Fiber Space or Kiosk
Find more details on returning equipment here.
Questions?
If you ever want to use Google Fiber's router, we've got you covered. Just let us know, and we'll help you get installed. For important safety and other detailed information about your hardware devices, visit google.com/fiber/devices.