Audio ads are a unique way to reach customers when they aren't looking at their devices, but are still engaged with content and receptive to brand messages. Whether listening to a podcast on a drive, streaming music while out for a walk, or using voice with a smart speaker, there are multiple times a day to reach users through audio. But creating professional grade audio ads can be difficult and costly. Audio Mixer can help you create audio ads at scale.
Upload multiple tracks including music, sound effects and voice, then adjust timing and volume to create a high quality audio ad. You can also add a companion display creative to show with your audio ad in supported publisher players.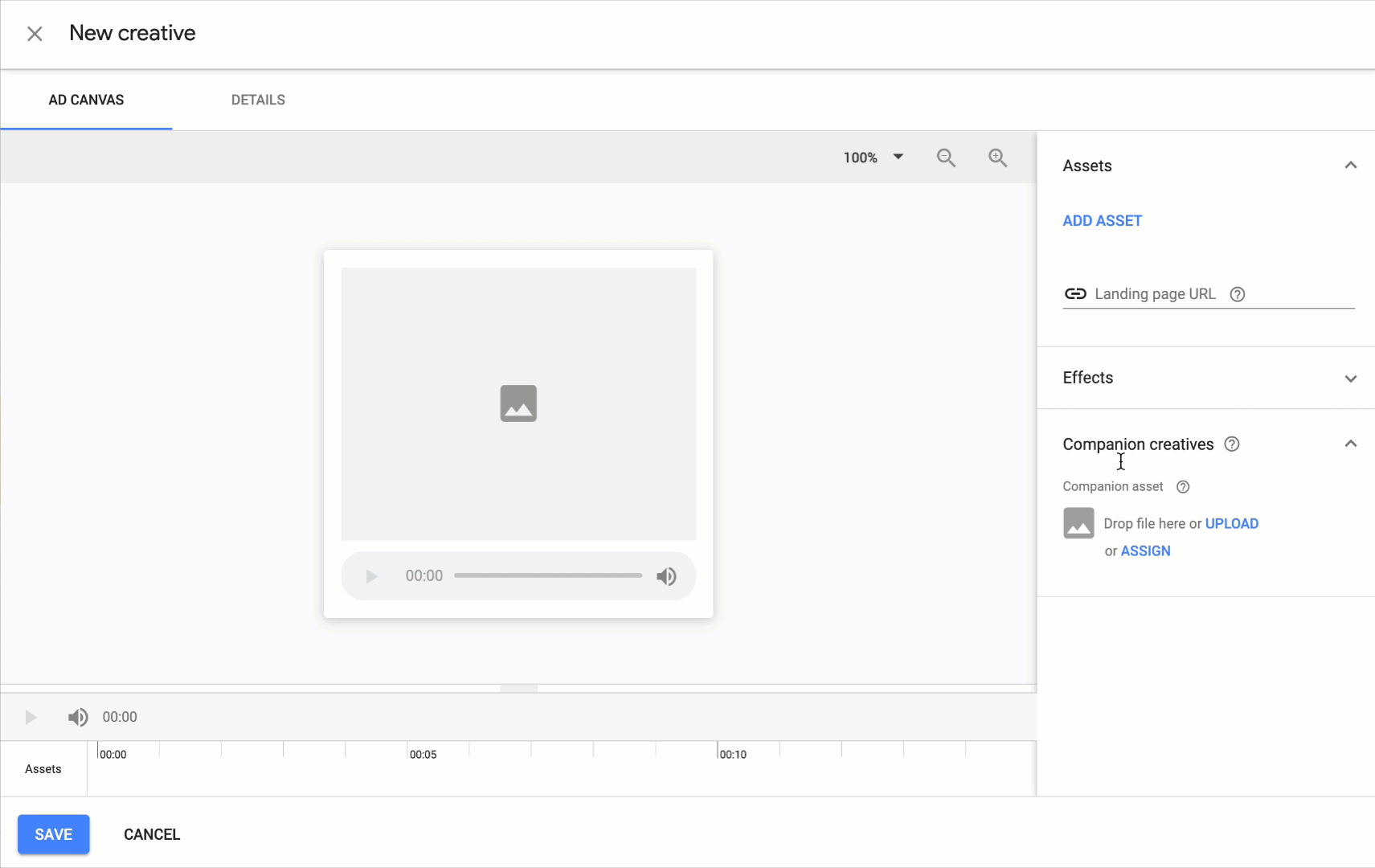 A demo of Audio Mixer's track setup and editing ability
Benefits
Layer different tracks to give your ad depth
Adjust track volume and fade sound in and out without professional audio editing software
Adjust track length and starting time to create a polished audio experience
Assets
You can add up to 5 total audio tracks of any type to your Audio Mixer creative.
Asset
Description
Specs

Voice track

Audio file with someone describing your product or service.

File types: .ogg, .mp3
Maximum file size: 1 GB

Music track

Audio file with background music.

File types: .ogg, .mp3
Maximum file size: 1 GB

Sound effects track
Audio file with sound effects.

File types: .ogg, .mp3
Maximum file size: 1 GB

Companion asset

An image or HTML5 display ad that appears while the audio ad is playing (if supported by the publisher).

Supported file types: .jpg, .png, .zip
File size: Up to 250 GB
Dimensions: Varies by publisher
Responsive creatives aren't supported

Landing page URL
The URL a person is sent to when they click on an ad.
Up to 1024 single-byte characters
Make an Audio Mixer creative
Before you get started, review the Audio guidelines for best practices and tips on choosing the right audio tracks.
Open your advertiser, then click Creative Format Gallery in the left menu. (Alternatively, you can click Creatives, then click New Creative from format gallery).
Find Audio mixer, then click Create. A new creative opens in Ad Canvas with an empty preview and a timeline where you'll be able to select and adjust your audio tracks.
In the Assets panel, click Add asset and select a track type (voice, music, or sound effects).

Browse and select an OGG or MP3 file (up to 1 GB). Your file is shown in a new track in the timeline.
Repeat this step to add up to 5 tracks.

In the Assets panel, enter a landing page URL.
(Optional) In the Companion creatives panel, upload a companion creative or assign an existing display creative. If your publisher supports more than one size companion, add as many as you need. Note: You can only add one companion per size.
(Optional) Trim or set a start offset time for each track as needed. Trim removes audio from the start or end of the file. Set a start offset to delay a certain amount of time before the selected track plays.
Listen to one or more tracks
While you edit your tracks and apply affects, you can play a single track, all tracks at once, or only the selected tracks in the timeline.
Play one track
To listen to a single track, click the track in the timeline, then click the play button above the timeline.
Play more than one track
To listen to more than one track, hold Shift, click the tracks you want to listen to, then click the play button above the timeline. Only the selected tracks will play.
Play all tracks
To listen to all of the tracks, click the play button below the Ad Canvas live preview.
Deselect a track
To deselect tracks, click the selected tracks in the timeline. The border will change from blue to gray.
Preview
There are two ways to preview an audio creative:
Preview in Ad Canvas (Display & Video 360-hosted audio creatives only)
Full page preview that opens in a new tab
Preview in Ad Canvas
To listen to the audio file, open any Display & Video 360-hosted audio creative and preview in Ad Canvas. If you just saved the creative, you may need to wait a few moments for the audio to be processed before you can play the audio. To get more preview options, open the preview in a new window.
Preview in Ad Canvas is not available for audio creatives synced from Campaign Manager 360. Instead, below the creative name, click Preview to open the preview in a new window.
Preview an audio creative in a new tab
You can open a full page audio creative preview from the Ad Canvas preview, or from the list of creatives (either in your advertiser's Creatives page or in the Creatives section of a line item).
To open a full page preview from Ad Canvas, hover over the companion preview area (if there's no companion assigned, you'll see a gray box with an image icon in the middle). At the top right, click Preview . The creative preview opens in a pop-up window. At the bottom right of the pop-up window, click Open in new window .
To open a preview from the list of creatives, hover over a creative and click Preview .
In the full page preview, you can:
Share a link with someone else for review. Just copy the link from your browser's address bar. Shareable preview links are formatted like this:
https://displayvideo.google.com/doubleclick/preview/main?creativeId=xbid.123456789&adv=1234567
Switch between two preview modes: mobile and assets. Mobile is recommended because most audio inventory is available through audio streaming apps, and this preview is the closest to what consumers will see at serving time.
Play your audio creative. In "Mobile" preview mode, find the audio player controls at the bottom of the device screen. Click play to hear your audio file. You can also pause or adjust the volume.
Preview companion creatives, if assigned. Use the "Companion size" menu at the top to preview a different companion. In "Mobile" preview mode, companion creatives are only visible while the audio is playing. If you have multiple companions and want to see them all on one page, use the Preview mode menu to switch to assets preview.
Reporting
All audio metrics and dimensions such as quartiles, completions, and so on work the same for multi-track creatives built with Audio Mixer as they do for other audio campaigns.