This view is used to show details about a record and page left and right through multiple records. This view is automatically used when an item is selected in the table, deck, and gallery view. You can configure this automatic view by creating a UX control of type detail and position ref based on the same data source. The view settings include options such as image presentation, column order, and QuickEdit columns.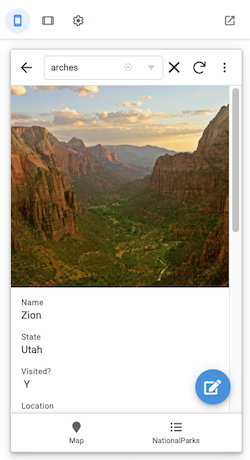 QuickEdit makes columns editable directly from the row detail view so they can be updated without editing the full form. To use QuickEdit, the data source of the detail view must allow edits. Additionally, some columns will not be eligible such as:
Key columns
Columns marked read-only
Columns computed by AppFormula or sheet formula
System columns like row number
"Change"-type columns
Columns with Editable_If expressions that disallow edits
Some details to keep in mind when using QuickEdit columns:
They can cause other column values to change through formula dependencies
Valid_If and Required_If conditions will be applied, and changes that invalidate the row will be rejected
Each edit is considered a separate row update, and as such, this feature is best used together with the Delayed Sync option
Create a detail view
To create a detail view:
Create a view, as described in Create a view.
Select detail as the View type when configuring the view.