Use Google Assistant on Android Wear
To ask your Google Assistant for help, press & hold the power button. When your watch is ready, you'll see "Hi, how can I help?"
Languages you can use
On Android Wear, the Google Assistant is available in English (U.S., U.K., and CA), French (FR and CA), German, Japanese, Korean, and Portuguese (BR). More languages are coming soon.
What you need
To use your Google Assistant on your watch, you'll need:
A watch running Android Wear 2.0 and up
Phone's language set to a language listed above
An Internet connection on your watch via a Bluetooth connection through Wi-Fi or cellular connection
Set up the Google Assistant to respond to your voice
You can talk with your Google Assistant by saying "Ok Google." First, turn on "Ok Google" detection:
If your watch screen is dim, tap to wake up the watch.
While on the watch face, swipe down from the top of the screen.
Tap Settings Personalization.
Turn on "Ok Google" detection.
Note: The "OK Google" detection uses a small amount of battery power. To save a little more battery, turn this feature off. Learn more about how to improve your battery life.
Do more with your Google Assistant
If you have Internet-connected devices such as thermostats, lights, or switches that work with Google, you can control your home using the Google Assistant. Learn how to connect devices to your Google Assistant.
Control smart home devices that work with Google
You can use your Google Assistant to control home automation devices such as thermostats, plugs or switches, or lights. (This feature is currently only available in English.)
Once you've set up the home device, to connect Android Wear to your Google Assistant:
On your phone, open the Android Wear app .
Tap Settings .
Under Google Assistant, tap Settings Home control.
In the "Devices" tab, at the bottom right tap Add .
Follow the instructions to finish set up.
Learn more about Google Assistant controlled smart home device settings.
When you're done connecting up devices to your Google Assistant , you can use voice commands like:
Thermostats: Make it warmer. Set the bedroom temperature to 68.
Lights: Turn on the bedroom lights. Did I forget to turn off the kitchen lights?
Send messages with apps you have on your Android
To send a chat message using apps like WhatsApp, Telegram, Viber, and others, you need the same app on your Android phone or tablet.
Messaging apps: Say "Send a message with" followed by the app name and the person before the message. For example, "Send a WhatsApp message to Sam."
Learn more about messaging apps and how to troubleshoot sending messages.
Troubleshoot issues
If you're having trouble connecting to your Google Assistant, try the following tips:
What you can ask your Google Assistant
See examples of what you can ask.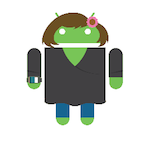 Andrea is an Android expert and author of this help page. Help her improve this article by leaving feedback below.
Was this article helpful?
How can we improve it?