About predictive audiences
A predictive audience is an audience with at least one condition based on a predictive metric. For example, you could build an audience for 'likely 7-day purchasers' that includes users who are likely to make a purchase in the next 7 days.
Prerequisites
Availability of predictive audiences depends on the underlying predictive metrics being eligible for use by meeting all prerequisites. If you have exported predictive audiences to linked product accounts, those audiences will not accumulate new users if the property becomes ineligible for the predictive metric and new predictions are not generated.
Create predictive audiences
Once your property is eligible for predictions, you can use suggested audience templates to create your own audiences with conditions based on those predictions.
In the left navigation, click Admin.
In the Property column, click Audiences.
Click New audience.

To create the audience based on a suggested audience:

Under Suggested audiences, click Predictive.
Suggested predictive audiences that meet prediction-modeling prerequisites are labeled as Ready to use. Click one of the templates that's ready.
Modify the template to your needs using the audience builder.

To create a custom audience with conditions based on predictive metrics:

Starting with Step 4 of the audience-creation process, select one of the predictive metrics.
To edit a predictive condition as you create an audience, choose one of the configuration options:
Most likely… (includes the top N% of users)
Least likely… (includes the bottom N% of users)
Custom (enter a percentage range or use the sliders to the right to select a range)
If you're using a custom range, the sliders let you see how many users are included and the likelihood of those users to meet the predicted condition. With a larger range, you can see that more users are included, but that a greater portion of them are less likely to meet the condition.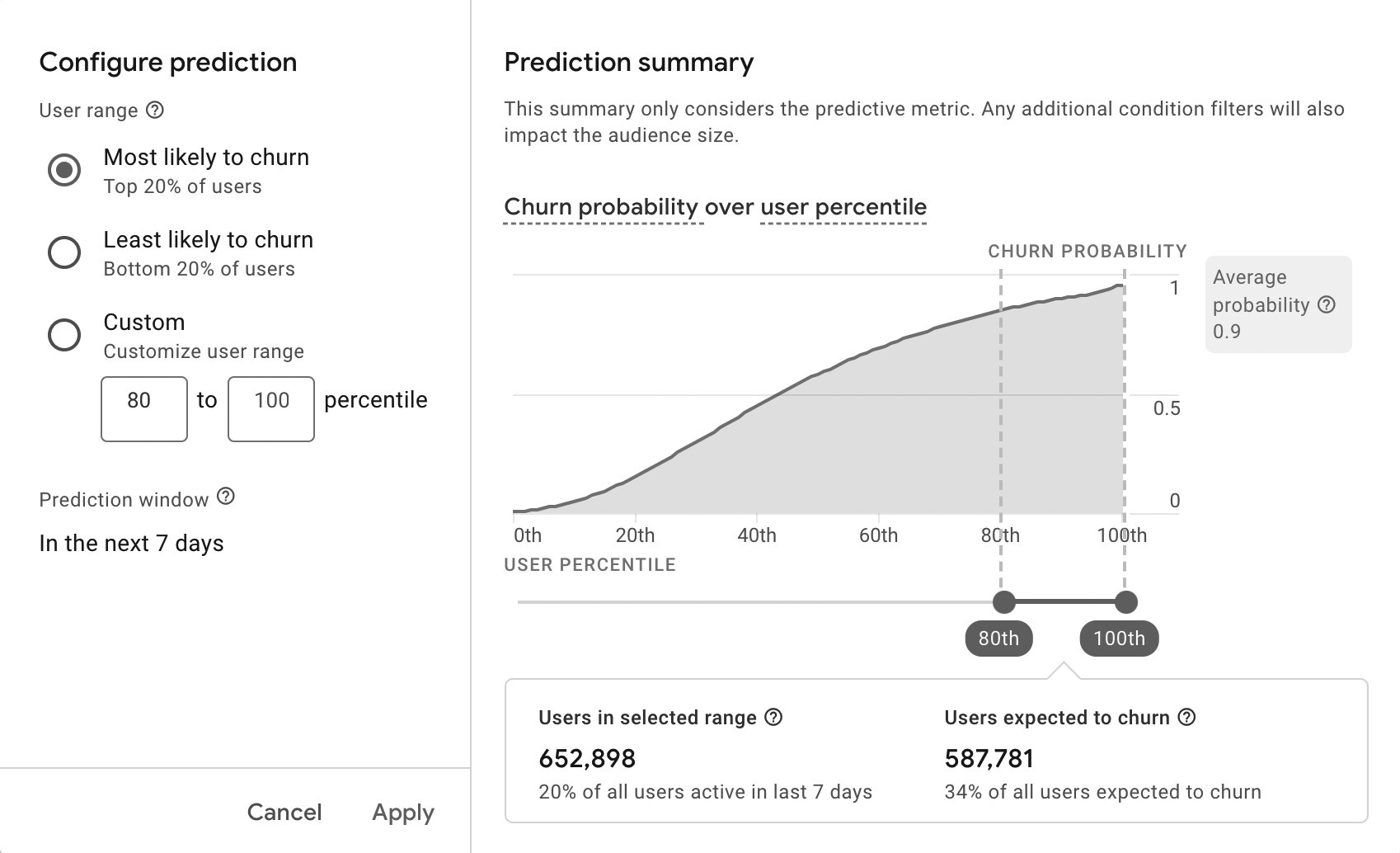 Default prediction configuration for churn probability, set to include 80th to 100th percentile of users (top 20% of users).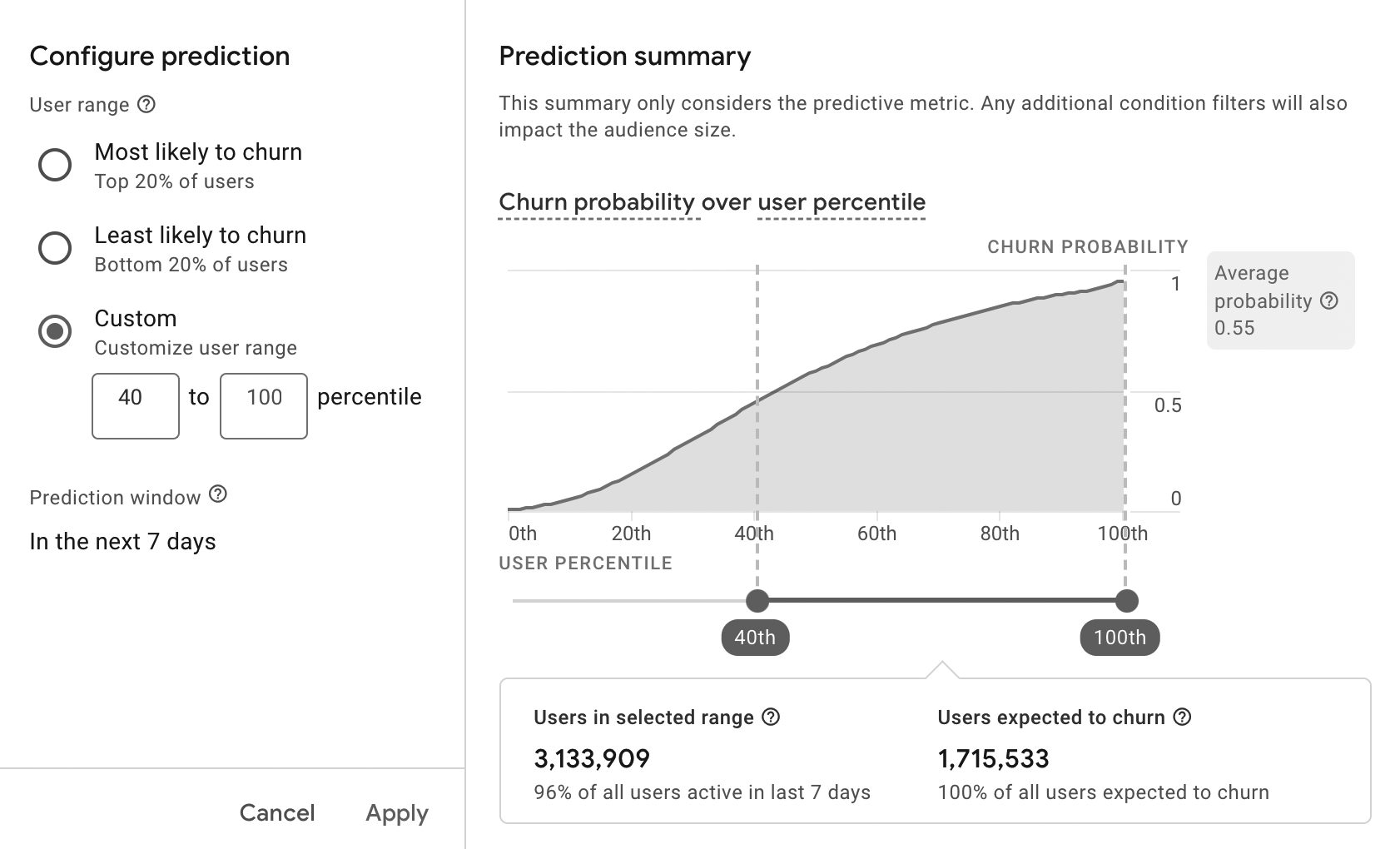 Modified prediction configuration for churn probability, set to include 40th to 100th percentile of users (top 60% of users).
Using predictive audiences
In your advertising products
Predictive audiences are automatically shared with any advertising accounts you have linked to your property (e.g., Google Ads, Display & Video 360, Search Ads 360).
As remarketing audiences
Users who are on the threshold of converting are more easily convinced to complete those conversions. For example, users who have studied product details or added items to their carts have given strong signals that they're already taking ownership of those products. Analytics goes beyond these simple signals and uses machine learning to find deep patterns of behavior that are unique to your property and show that a user is likely to convert. A persuasive follow-up from you via a well-crafted remarketing campaign can provide that last nudge they need to complete the process.
In re-engagement campaigns
While users who are likely to churn are signaling a waning interest in your business, they have also previously demonstrated engagement with your business. Approach them again with reminders of the value you offer in terms of product variety, quality, and price, or convenient shipping and return options. Remind them of their value to you with special offers.
Suggested predictive audiences
The suggested audiences include users who exceed thresholds for the predictive metrics. For example, users are included in the "Likely 7-day purchasers" audience when their "Purchase probability > 90th percentile". If, for example, the modeled data were based on 1000 users, the 90th - 100th percentile would include the 100 users (the top 10%) with the greatest purchase probability. Users who exceed or are at the 90th percentile, the top 100 users, would be included in the audience.
If you add other conditions to the audience, you can reduce the number of users who will be included. For example, if you include Age or Region, or add a condition based on an event count, you might eliminate some of the 99 users who would otherwise be included.
Audience
Description
Configuration
Likely 7-day churning purchasers
Purchasing users who are likely to not visit your property in the next 7 days.

Include:

(event)

in_app_purchase OR purchase OR ecommerce_purchase

OR

(metric)

LTV > 0

AND

(predictive metric)

Churn probability > 80th percentile

Likely 7-day churning users
Users who are likely to not visit your property in the next 7 days.

Include:

(predictive metric)

Churn probability > 80th percentile

Likely 7-day purchasers
Users who are likely to make a purchase in the next 7 days.

Include:

(predictive metric)

Purchase probability > 90th percentile

Likely first-time 7-day purchasers
Users who are likely to make their first purchase in the next 7 days.

Include:

(predictive metric)

Purchase probability > 90th percentile

AND

(metric)

LTV = 0

Exclude:

(event)

in_app_purchase OR purchase OR ecommerce_purchase

Predicted 28-day top spenders
Users who are predicted to generate the most revenue in the next 28 days.

Include:

(predictive metric)

Predicted revenue > 95th percentile