Explore our reporting guide to fully understand the basics of Google Analytics reports and see examples of the data that is collected.
Google Analytics collects data from your websites and apps to create reports that provide insights into your business. You can use reports to monitor traffic, investigate data, and understand your users and their activity.
Once Analytics starts to receive data, the data appears in the Realtime report and then in your other reports shortly after. Some of the data in your reports is collected from your websites and apps once you set up Google Analytics, while other data requires some additional setup.
You can find all your reports by clicking Reports

on the left.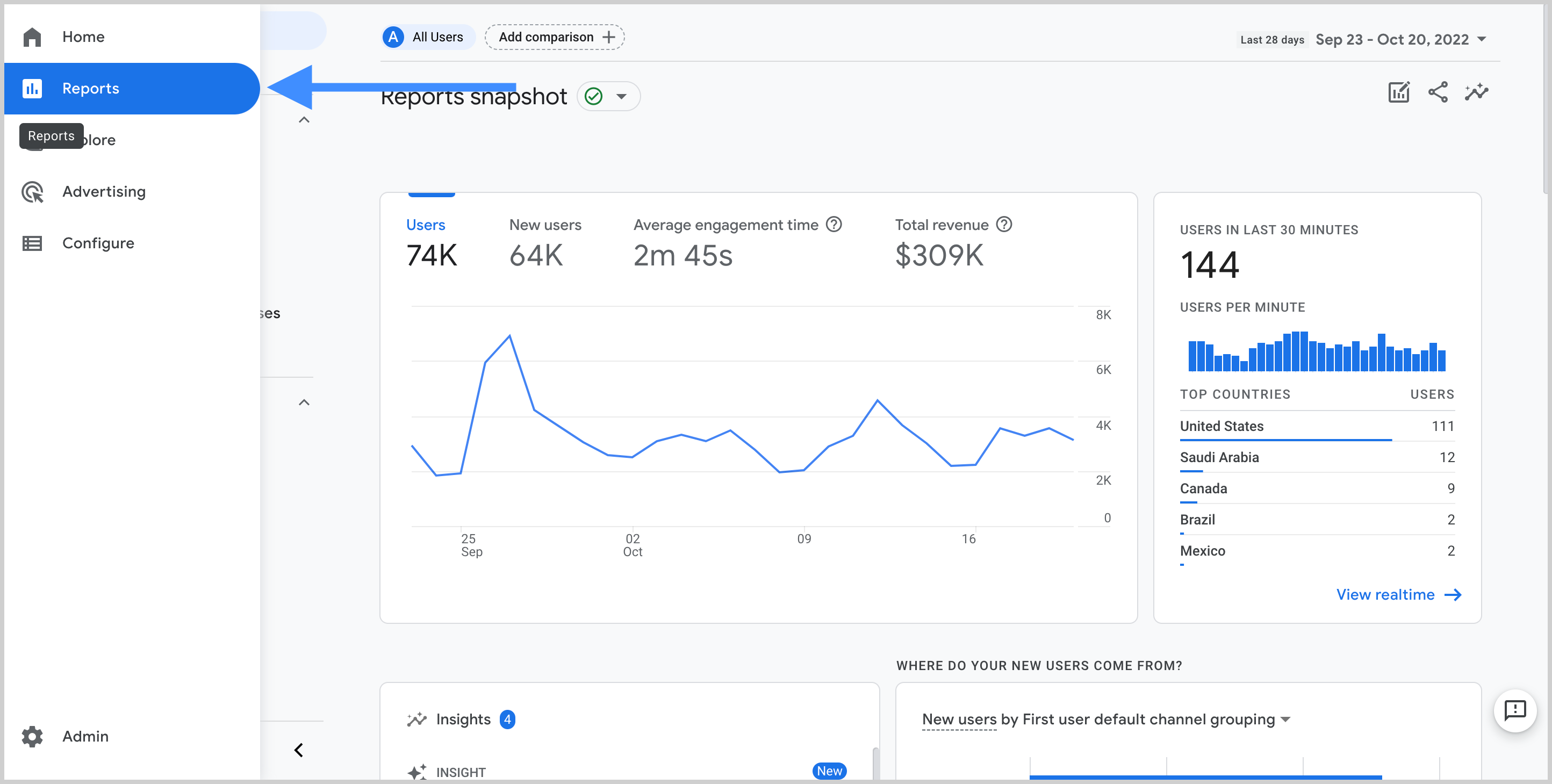 Get started
When getting started with Google Analytics, you will see a Reports snapshot report, a Realtime report, and a number of predefined reports. Everyone with access to your Analytics account will see the same set of reports on the left.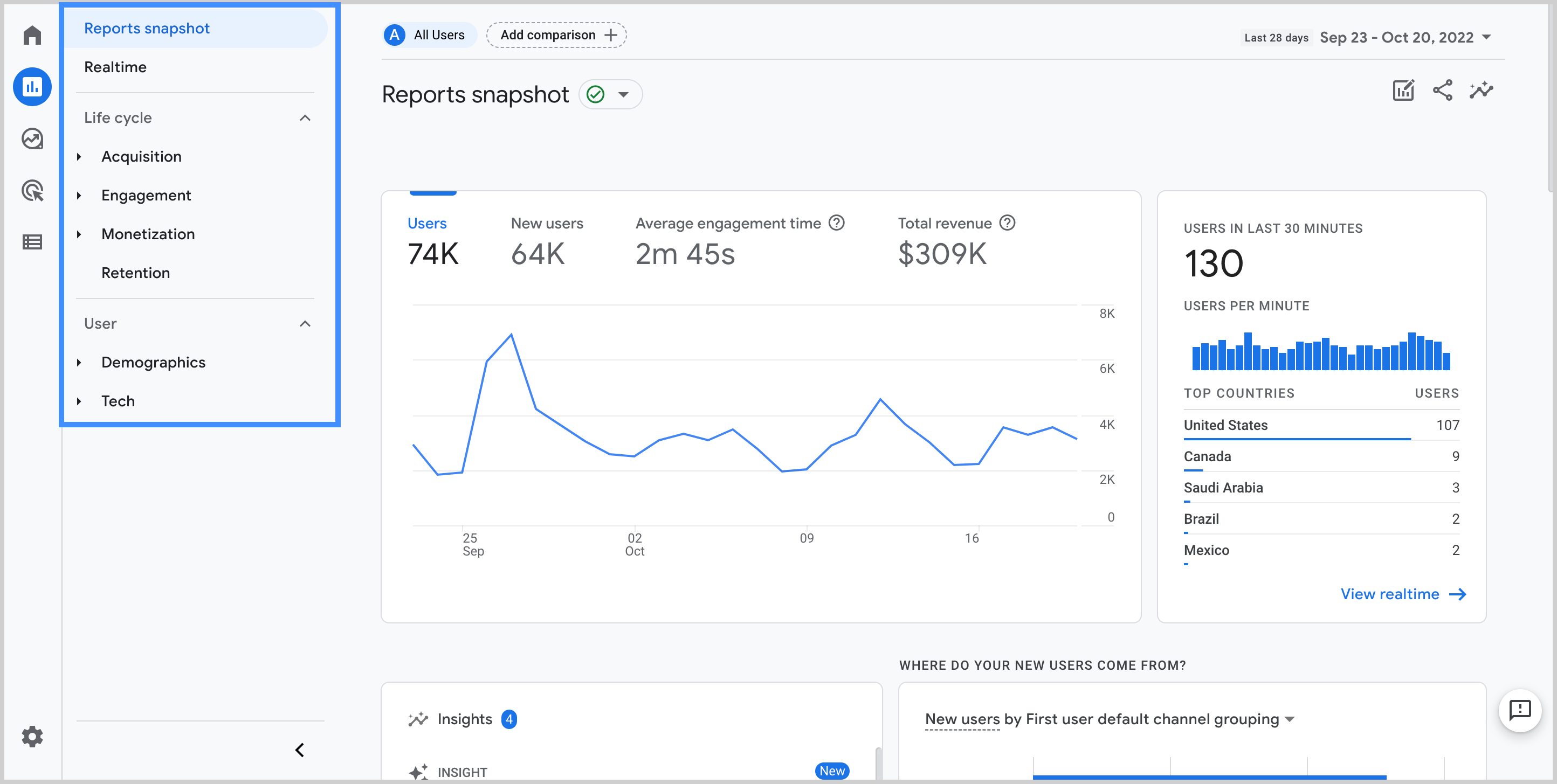 You will find the following types of reports on the left:
An overview report is a report that summarizes information about a topic; for example, the Acquisition overview and Engagement overview reports.
A detail report is a report that allows you to drill into one or two dimensions to investigate your data in greater detail; for example, the Ecommerce purchases and Events reports.
Customize reports
You can change the reports that appear on the left, and you can change the information included in each report. While Analytics provides a tailored collection of reports for your business, customizing the reports and navigation allows you to further customize the interface to meet your business needs. Learn more about customizing reports
Find your way around
The following is an example of a report in Google Analytics: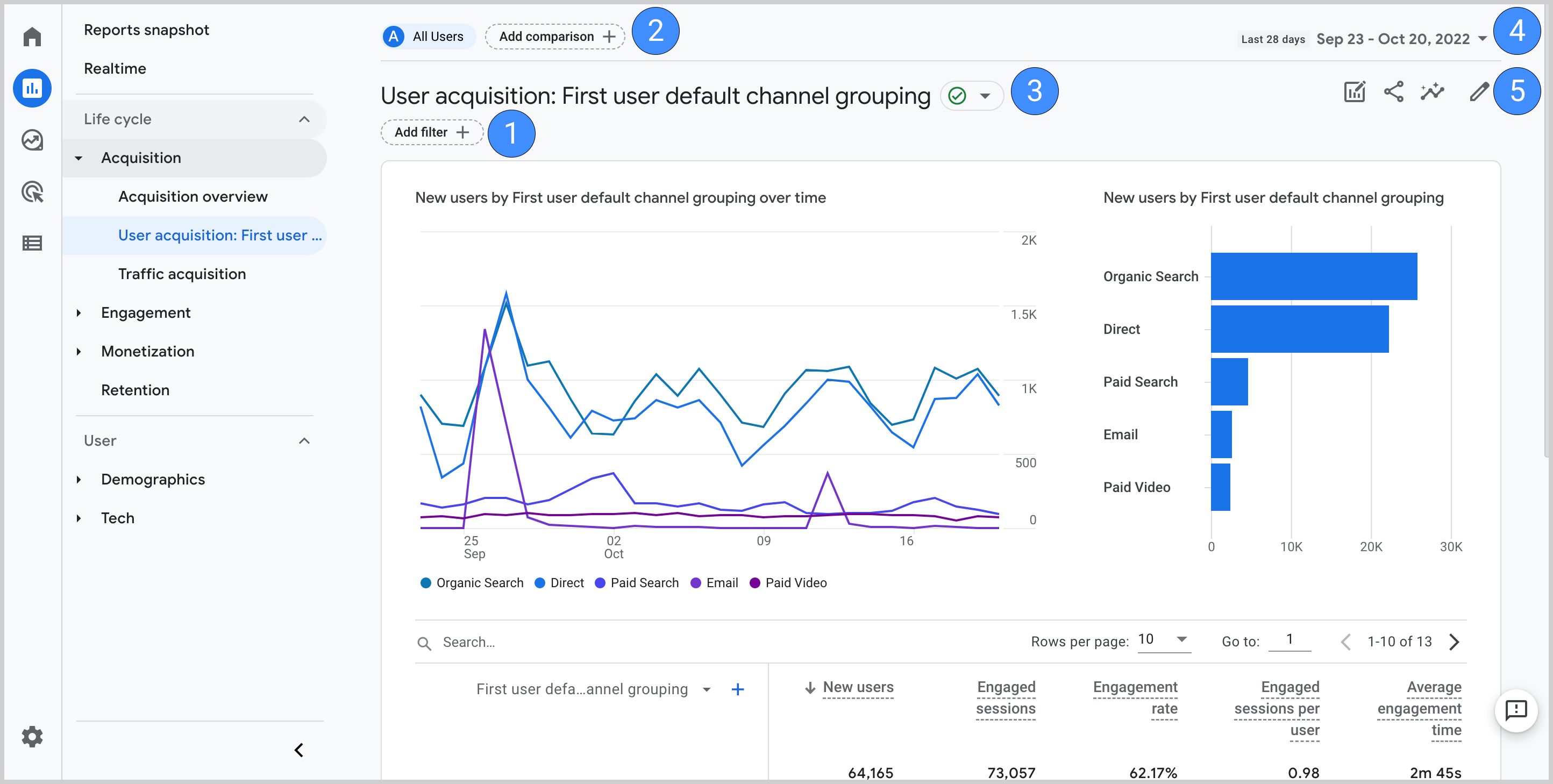 Report collections
The set of reports below the Reports snapshot and Realtime reports on the left are called report collections. You will see some of the following report collections based on information you provide during setup. You can customize the report collections to include any report.
| Report collection | What it is | Appears automatically when... |
| --- | --- | --- |
| App developer | Summarizes key metrics about the apps you connect to Firebase, including data about your users and their behavior | you add the Google Analytics for Firebase SDK to your connected mobile app |
| Games reporting | Provides game-specific information to help you measure customer behavior across the user funnel and develop metric-driven insights about your mobile gaming apps | you have at least one app data stream associated with a games app in the Google Play Store or Apple App Store, or the industry category in your Property Settings is set to "Games" |
| Life cycle | Helps you understand each stage in the customer journey — from acquisition to retention | All Google Analytics properties start with this collection by default. |
| User | Helps you understand the people who use your websites and apps, such as their ages, interests, devices, and app versions | All Google Analytics properties start with this collection by default. |
What's next
When you want to investigate certain pieces of data further, you can build an exploration for deeper investigation or export your data to BigQuery so you can run SQL-like commands on your data.
Additionally, you can download the Analytics app to access your Analytics accounts and data from your phone or tablet. The Analytics app includes many of the same reports you find in Analytics on the web. You can download the Google Analytics mobile app for Android or iOS. Learn more