The Tech topic shows traffic by the technology your audience uses. This data is collected automatically when you connect your website or mobile app with Analytics.
Access the Tech reports
To access the Tech reports, click Reports > Tech in the left navigation. If you don't see the topic, an administrator may have removed it from the navigation.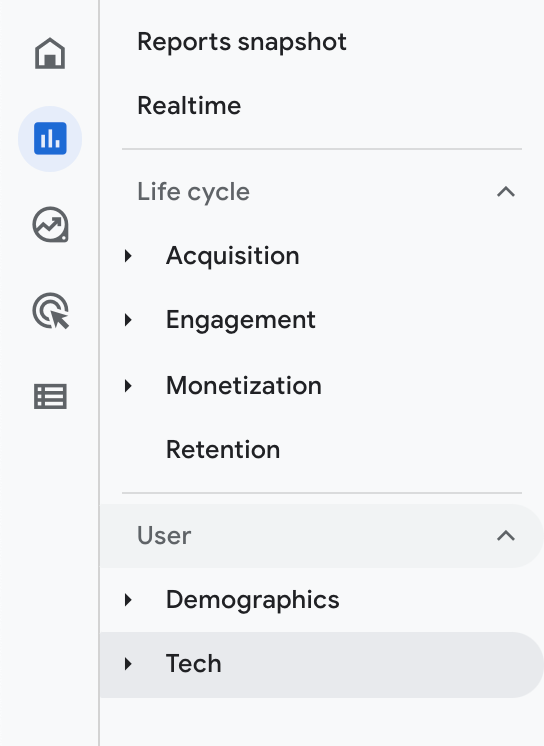 Benefits
Understanding the technologies your audience uses to reach and consume your content lets you fine tune current versions and plan upcoming implementations. For example, you want to be sure your site is fully functional in current browsers, but you also want to understand the extent to which users are migrating away from desktop to mobile browsers and apps.
Device categories
The device category is the type of device your users operate to access your content. Content accessed from:
a mobile device, such as an Android or iPhone, is in the mobile device category
a desktop device, such as a laptop or desktop computer, is in the desktop device category
a tablet device, such as an iPad, is in the tablet device category
As of September 2019, Apple changed the user agent for the iPad so that it appears as desktop traffic. This change will cause a decrease in iPad tablet traffic and an increase in Safari desktop traffic. Since iPad users will be receiving desktop sites by default, this change in reporting matches the user experience.
Platforms
The platform is the method by which users access your content. Content accessed from:
a web browser, for example Chrome or Safari, comes from the web platform
an Android app, comes from the Android platform
an iOS app, comes from the iOS platform
Users who visit your website from an Android or iOS device come from the web platform.
Data streams
A data stream is the source of data from an app or website. For each platform, you can collect one or more data streams. For example, a company measures traffic on two websites using one Google Analytics 4 property. Users can access the separate websites using one web platform, but each website generates its own data stream.