See your account history
Have you ever tossed a bunch of ingredients together to make an amazing meal -- maybe with a few other cooks in the kitchen -- and wished you could go back in time to record the recipe?
Your AdWords account contains a history of changes that lets you see what you've done in the past so you can understand the recipe that led to success -- and aim for even better results in the future.
By seeing your account statistics alongside the changes you've made across your campaigns, you can understand what events may have triggered changes in your ads' performance. You can customize which changes you'd like to see -- by date range, campaign or ad group, user, and type of change -- and, if you decide the changes you've made aren't helping you achieve your advertising goals, you can roll back those changes using the "Undo" feature as long as they were made in the last 30 days.
How to see and use your change history
Sign in to your AdWords account at https://adwords.google.com.
Click the Tools tab and select Change History.
On the page that appears, choose what types of changes you want to see. You can filter the changes you'll view in four ways:

Time period: View changes for a particular date range using the drop-down menu near the top of the screen.

Scope: Choose whether you want to view changes across your entire account or choose a specific campaign or ad group using the list on the side navigation bar.

To see changes made at an account level (like adding a new user), click Account changes.
To see changes made to all campaigns, click All changes.
Click a campaign name to see only the changes affecting that campaign.
Within a campaign, click an ad group name to see only the changes affecting that ad group.

User: If multiple users with different logins manage your account, you can use the drop-down menu in the Changed by section to view changes made by a particular user.

Type of change: Use the checkboxes to filter by change type. Check All to see all changes made, or check one or more of the change types to narrow the results. We'll go over the details of each change type in the next section.

To see more information about each change, click Show details. To simplify the view, click Hide details.
Export your change history by clicking the button.
Try it now
Account actions tracked in your change history
Here are the various change types tracked in your history:
Ad: Actions taken to create, edit, pause, resume or delete an ad
Budget: Adjustments to your campaign's budget
Bid: Adjustments to your bids
Network: Changes to the network settings chosen for a campaign 
Keyword: Actions taken to add, pause, resume, or delete keywords; adjustments to a keyword-level maximum cost-per-click (CPC) bid or destination URL
Status: Actions taken to pause, resume, or delete a campaign or ad group
Targeting: Adjustments to a campaign's location or language targeting
In addition to changes made directly in your AdWords account, your change history will show changes made via automated rules, AdWords API, and AdWords Editor.
Your change history doesn't track password changes (for security reasons).
Example
Let's say your assistant, Stu, has been a bit scatterbrained about money lately. So you want to see all changes he made to your daily budget and cost-per-click (CPC) bids last week.
First, in the list of campaigns in the sidebar of the page, make sure to select All changes.
Next, in the date drop-down, set it for last week.
In the "Change types" section, check the boxes labeled Budget and CPC.
Make sure to pick Stu from the Changed by drop-down.
Don't see any changes?
There may not have been any changes in that time period, based on the limits you've set. Try widening your options to see changes.
You just made a change. If it's only been a few minutes, wait a few more and try again.
Using the chart in your change history
If line after line of changes listed makes your eyes swim, take a look at the chart in your change history. Changes are mapped to the chart and you can choose which statistics to show.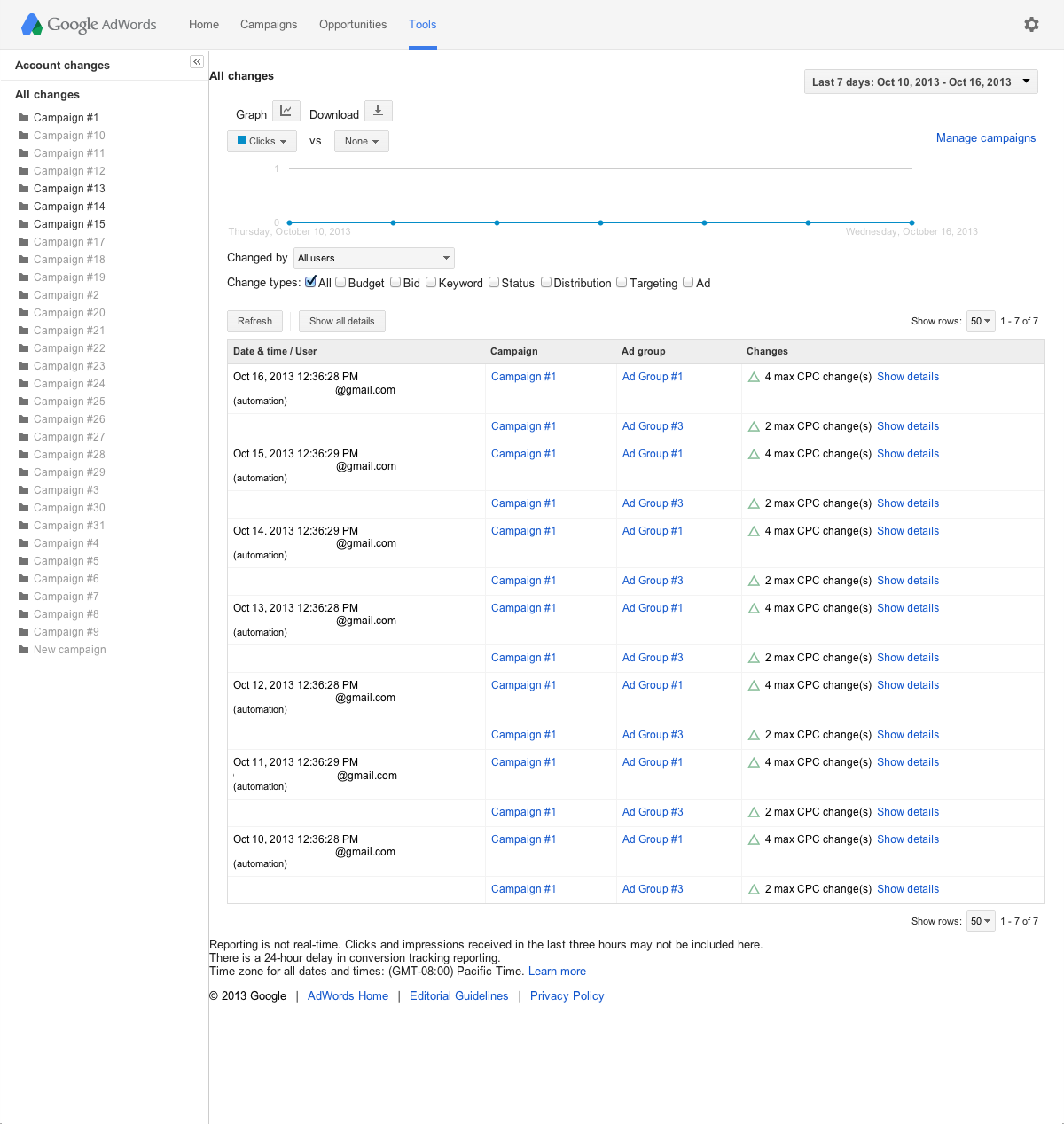 See different metrics: You can view one or two statistics in the chart. Choose one from the first drop-down menu, and add another to compare to using the second drop-down menu, if you like.
See exact numbers: Move your mouse cursor over a point in the chart, and we'll show you specific metrics for that data point.
Tip
Like lists? Hide the graph by clicking the graph icon.
You may not be able to travel back in time, but the "Undo" feature lets you roll back changes you've made in your account during the last 30 days to their previous state.
You can undo changes you made to your account on the Change history page, indicated by an

arrow button next to each set of actions. If there are multiple changes made on a particular day and time and listed in the same row on the Change history page, the "Undo" feature will undo all of these changes together.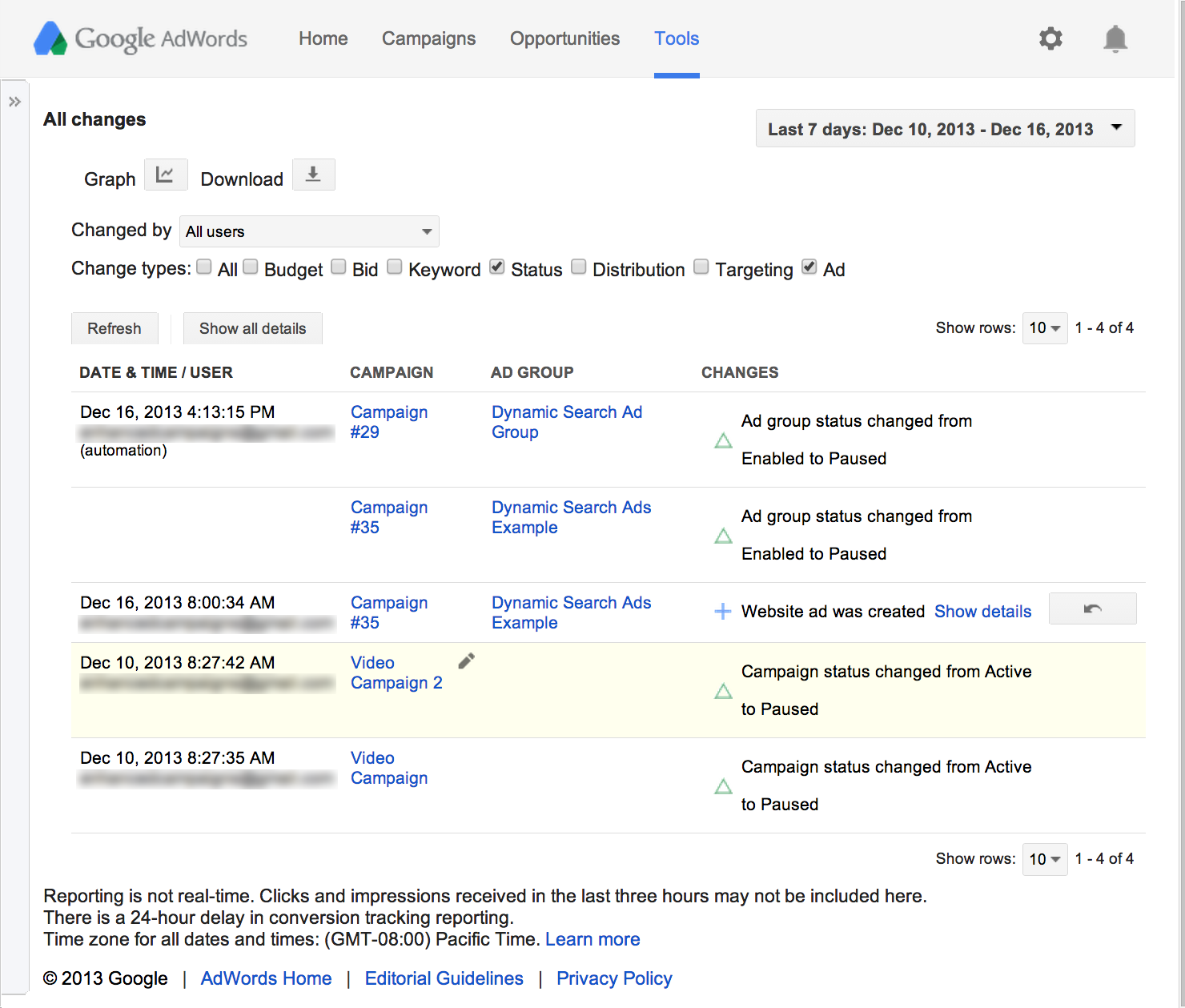 Many, but not all, changes can be undone. If a change can't be undone, you won't see an arrow button next to it.
In rare circumstances, we won't be able to undo changes even if you've clicked the arrow button (we'll let you know if that happens). This could be because the associated item has been deleted since the change was made, or someone else with access to your account has already undone the change since you last refreshed the page, for example.
Here's how to undo changes in your account history:
Identify the row with the set of changes you want to undo and click the arrow button at the end of the row (note that only changes made in the last 30 days can be undone).

You'll be shown a verification that the change can be undone. If so, click the Undo changes button to proceed.

You'll be taken back to the Change history page. If the change was successful, a yellow box will appear confirming the number of changes you've just undone. The "Undo" column on the row of changes you just reverted will display "Undone."

A new row will appear on your Change history page indicating the undo actions you just took. However, changes can take from 30 minutes to 3 hours to appear in your account and on your Change history page, so look for the yellow box described in step 4 for immediate confirmation.