Create a new ad group
Within a given AdWords campaign, an ad group lets you easily manage the status and default bids for one or more related ads as well as their shared set of keywords.
For example, let's say that you own an art supplies shop. You could create a series of ads for all your watercolour paints, and bundle them into a single ad group named "watercolours". From the "Ad groups" tab, you could pause all your watercolour ads simultaneously (if you're temporarily sold out), or increase the default bid of all their keywords to get more clicks.
Creating a new ad group in a campaign
If you don't have any campaigns yet, click Create a new campaign and follow the instructions on the page to complete your ad group. If you create a "Search Network only – Standard" campaign, you can add multiple ad groups on the "Create ad groups" page.
If you already have a campaign, follow these steps:
Sign in to your AdWords account at https://adwords.google.com.au.
Click the Campaigns tab.
Under All campaigns, click the name of the campaign that you'd like to add an ad group to.
Click the Ad groups tab.
Click the + Ad group button.
On the "Create ad group" page that appears, follow the instructions to complete your new ad group (you'll be given the chance to create an initial ad and its keywords).
Click Save ad group.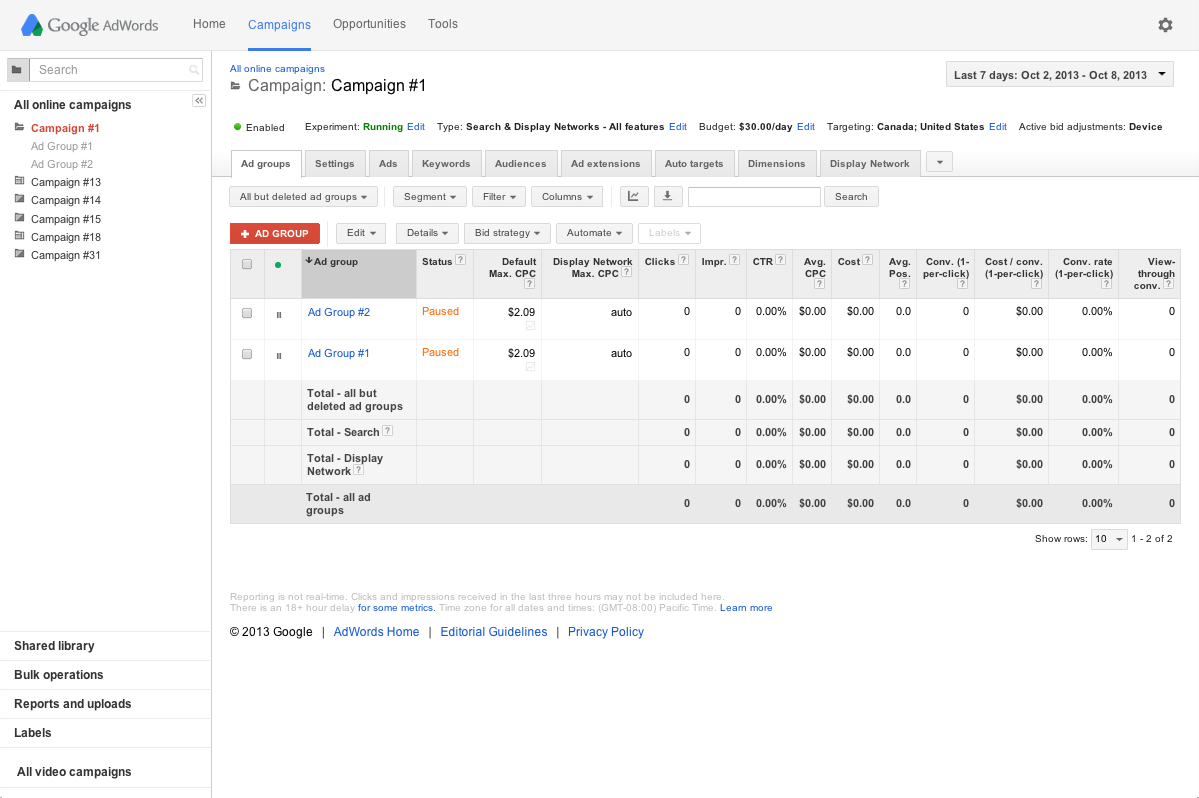 Once you've created your new ad group, you'll most likely want to fill it in with more ads and keywords. You can do this by clicking on your ad group's name, then click on its Ads or Keywords tabs.
Tips
A single ad group may contain up to 50 text ads, and up to 20,000 individual targeting items (individual targeting items include keywords, negative keywords, placements, audience lists and product groups). In turn, a single campaign may contain up to 20,000 ad groups.
Use keyword matching options to help control which search terms will trigger your ad to appear. When you enter keywords, we'll make them broad match by default. This means that your ad is eligible to appear when someone searches for any variation of those keywords. To use the other keyword matching options, you'll need to add special punctuation to your keywords. For example, with the exact match option, you can make your ad eligible to show only when someone searches for your exact keyword and nothing else. You just need to add brackets, like [tennis shoes], to your keyword.
Editing your ad groups
In the table on the Ad groups tab, you can edit a single ad group by simply clicking on its status icon or its bid in the "Default Max. CPC" column. To change the ad group's name, click the pencil icon that appears when your cursor is next to the ad group's name. Note that if you click the ad group's name instead, you'll jump to the Keywords tab. Regardless of which tab that you're on, your ad group's details are both visible and editable at the top of the page!
To "batch edit" in the table on the Ad groups tab, click the checkbox next to one or more ad groups to enable the Edit button (or click the header row's checkbox to "Select all"). This enables you to edit the status, name, and pricing for the selected ad groups.
Was this article helpful?