Sign in to multiple accounts at once
Tired of always signing out to switch between your accounts on your own computer? Whenever you need to switch accounts, just click the Add account button to sign in to your other account(s) and conveniently switch between them.
Multiple sign-in does not merge account data, and it does not give one account access to another.
Multiple sign-in is most convenient to use on devices that you don't share with other people (where you won't need to sign out to let others access their own accounts). If your friend needs to check their email on your device, you can always open an Incognito window or another browser to avoid signing out of your accounts.
Sign in to additional accounts
Sign in to a supported Google product.
Click your profile photo or email address at the top of the page.
Select Add account from the drop-down menu.




On the page that opens, enter the email address and password for another account you wish to access, and click Sign in.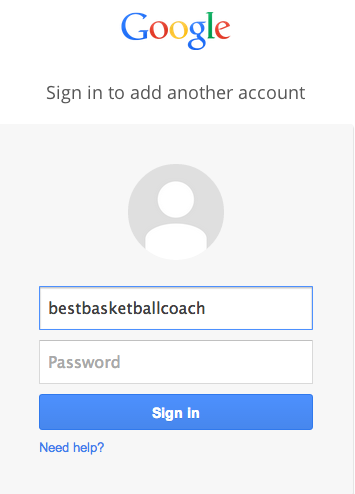 Switch between accounts
Once you're signed in to more than one account in the same browser, you can easily switch accounts. Just click your profile photo or email address at the top and click on the email address you'd like to sign in to.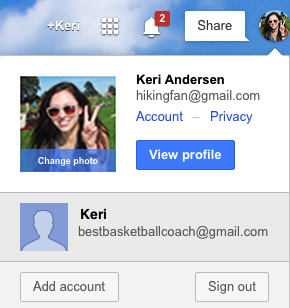 To easily check which account you're signed in to, use a different profile picture for each account.
Products that do not support multiple sign-in
Some Google products and mobile versions of Google products do not support the use of multiple accounts in the same web browser. Instead, they default to the first account that you signed in to from your current browser.
Google Drive supports multiple sign-in, but works differently than other products.
If you want to use an account with a product that doesn't support multiple accounts, you have two options:
Sign out of all your Google Accounts and then sign in to the account you want to access.
Sign in to another account using a second web browser.
Signing out
If you choose to sign out of any account while using multiple sign-in, you will be signed out of all your accounts. To resume using multiple sign-in, you will need sign in to one account and then use the Add Account option to sign in to your other account(s). Google won't remember your associated account information, so you'll have to enter your username and password the next time you want to add an account.