View account activity in the Google Dashboard
You can see information about how you've used Google's products by visiting the Google Dashboard. The dashboard includes the most recent information about how you've used each product, as well as a summary of your activity for some products over the last 28 days. For example, if you use Google Search, you can look at the "Web History" section to see your most recent searches as well as the total number of searches you've done over the last 28 days.
Reading your dashboard
Let's take a closer look at how you can read the information within a section of your dashboard. To begin, go to your Google Dashboard. Then click on the name of the Google product or service you'd like to see information about. The window will expand to show you details about how you've used the service.
For example, here's what the information might look like for Calendar: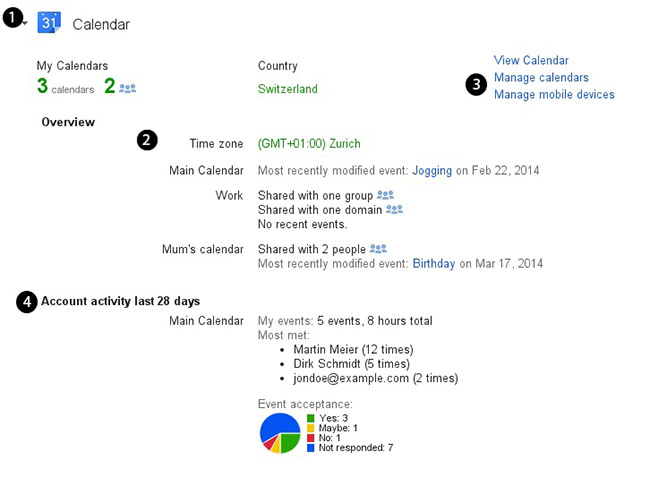 Name of product or service
Click the name to open this window.
Overview
This is a summary of when you last used the product or service and what you did with it. For example, you might see how many emails you've sent, or who your most popular contacts are, or what computers you've used to sign in. To get even more detailed information, you may be able to click a link in the dashboard. In this example, if you click jogging, you'll be taken to your Calendar entry for "Jogging" on February 22, 2014.
Options
Links to pages where you can change settings for the product or service. For example, you can pause or delete your Web History, or choose not to store your chat history in Gmail.
Account activity last 28 days
Some products will also include a summary of how you've used that product over the last four weeks. In this Calendar example, you can see the number of events you attended in the last 28 days as well as who you've met most during that period. Monthly account activity is available for the following products:

Account
Calendar
Web History
YouTube
Keep your account secure with the Google Dashboard
You can use the information shown in the Google Dashboard to help make sure your account has not been broken into. Check the dashboard for the following suspicious activity:
Access from an unusual geographic location (Account >>Locations)
Access from a computer, device, or browser that you do not use (Account>> Browsers or Platforms)
A sudden and dramatic increase in the number of emails sent (Gmail >>Sent Mail)
If you think your account has been stolen and you have access to your account, reset your password immediately. If you don't have access to your account, visit the Google Account recovery form.
Sign up for a monthly reminder
You can sign up to receive a monthly email reminder to visit your dashboard:
Sign in to your account at accounts.google.com.
Click Data tools at the top of your page.
In the Data tools box, click the "View Account Data" link to the right of Dashboard.
Re-enter your password if asked.
Check the box at the top of the page to "Send me monthly reminders to check my account activity."
Why Google Account data?
We focused on Google Account data because that's the information that is personally associated with you and your signed-in activity. Therefore, we want you to have as much access to and control over it as possible. Learn about the
other types of data
Google records that aren't listed on the Dashboard.
Known Issues
Unused browsers might appear on your report
Some apps, like Picasa, use specific browsers or the operating system's standard browser to load the Google sign-in page. If you're using any of these apps to sign in, you might see a browser you haven't used with your Google Account in the "Account" section of the Google Dashboard.