Help and tips for Classroom teachers:
For IT administrators of Google Workspace Google for Education
Supported editions for this feature: Business Standard and Business Plus; Enterprise; Education Fundamentals, Education Standard, Teaching and Learning Upgrade, and Education Plus; Nonprofits; G Suite Business. Compare your edition
Let your users share files with only certain organizations outside of your business or school. Add the organization's domain to your allowlist of trusted domains, and then choose sharing settings for your users.
Google services that work with trusted domains
How the allowlist works
You have one allowlist that includes all your trusted domains. Drive, Sites, Data Studio, and Classroom settings use the same allowlist.
If you have Google Workspace Business Standard or Business Plus: The allowlist applies to all your users. Your users can share externally only with trusted domains.
If you have Google Workspace Enterprise, Education, Nonprofits, G Suite Business: You can turn the allowlist on or off for a group or organizational unit.
Domains in the allowlist
You can use a primary or secondary domain, domain alias, or subdomain. For example, if you want to share with users at sales.solarmora.com, add this subdomain to the allowlist.
Trusted domains that use Google Workspace Essentials must be domain-verified (not email-verified) to receive Drive file shares from your users.
Google service accounts (domain name ends with "gserviceaccount.com") can't be used as trusted domains. Learn more
Set up a trusted domain
Add a trusted domain to your allowlist
In the Admin console, go to Menu

AccountDomains

.

Click Allowlisted domains.

Click Add new.

Enter the domain, subdomain, or multiple domains separated by commas. You can add up to 200 domains at time.

Click Add. Repeat to add more domains.

Click Save

(Optional): Check the allowlist for the domains that you added. Go
Give sharing access to trusted domains
Remove a domain from your allowlist
To stop sharing between the domain and your organization, remove the domain from your allowlist. Users do not receive a notification about the change.
In the Admin console, go to Menu

AccountDomains

.

Click Allowlisted domains.

Point to the domain name and click Remove.
Troubleshooting
If you can't share with a domain on the allowlist:
Go to the Sharing settings for the service, such as Drive or Classroom.
Below Allowlisted domains, click View configure allowlisted domains.
Check for domains with the alert, "Incompatible with allowlisted domains"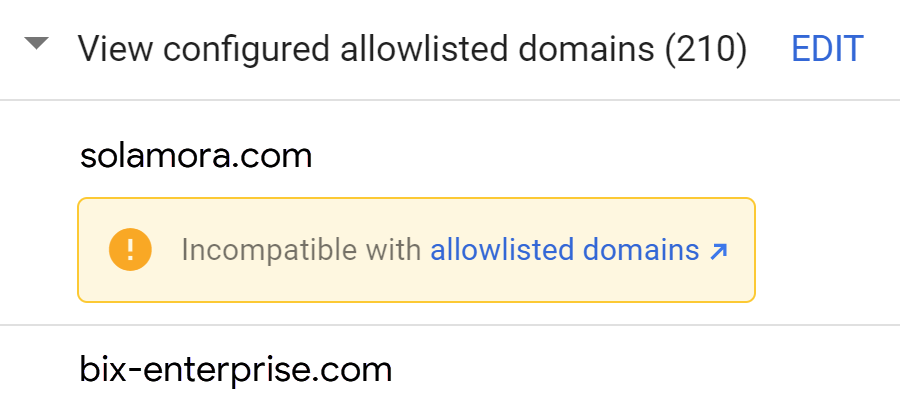 Check the reasons that the domain isn't on the allowlist:
The domain name might be misspelled.
The domain is a Google Service account (name ends in "gserviceaccount.com"), which isn't supported as a trusted domain. Learn more

For Classroom: Sharing isn't available because the domain isn't using Google Workspace Education Fundamentals or Google Workspace Education Plus.

For Drive: The domain isn't using Google Workspace. Follow steps to allow sharing with non-Google accounts.

Or the domain is using an email-verified Google Workspace Essentials edition. Only domain-verified editions can be used in the allowlist.

For Data Studio: Check the sharing settings for Data Studio.