Call-to-Action Overlays
Call-to-Action Overlays are small banners that appear over your video, which promote an action for the user to take, such as visiting your website. Below is an example of what they look like. There are 4 main components to an overlay that you control: Headline, Description, Display URL and Image URL. The Headline should catch the attention of your audience, the 2 sentence Description gives a quick summary/call-to-action and the Display URL links to your site.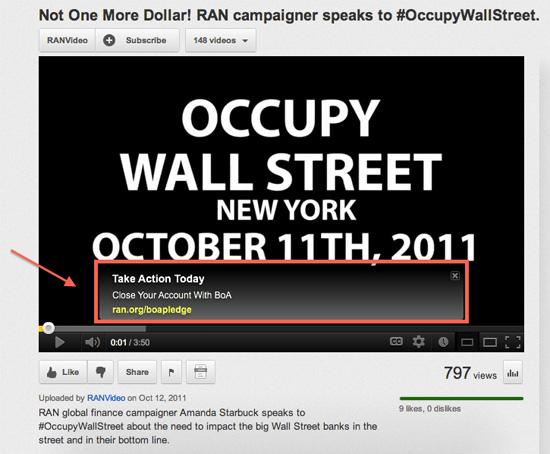 Overlays are set-up at the video level. You'll use the "Video Manager" tool to set-up overlays on your video. To do this, log into your account and navigate to the video manager. Click "edit" next to any of your videos. Now you'll be able to edit your video information. Next, let's walk through how to set-up an overlay.
Look for the tab "Call-to-Action Overlay", click this tab and now the overlay editing options are visible. Next you'll enter your headline and description lines, keep in mind that each field allows for 25 characters. You can also enter an image url, which will add a small icon next to your overlay (the "Keep Tahoe Blue" logo in the above image). You'll also provide a display url, that's what's visible in yellow in the example image. Note that your destination url does not need to exactly match your display url, although the domains do need to be the same. Save your changes and now your overlay will appear on your videos.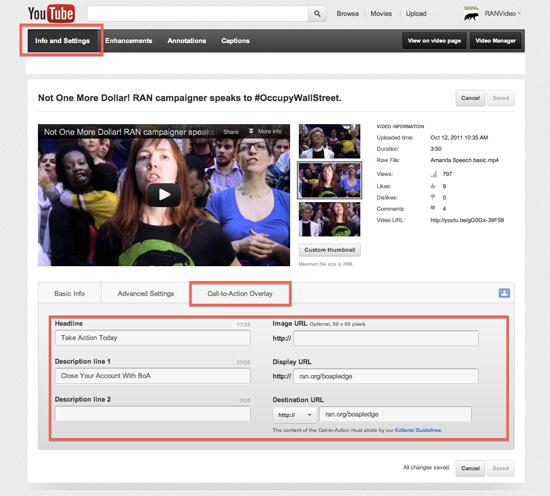 Technical Specifications
| Assets | Comments |
| --- | --- |
| Thumbnail (56x56 px) | Must provide externally hosted image URL (.jpg or .gif only) |
| Headline Text | One line of headline text. Max 25 characters. |
| Description Text | Two lines of description text. Max 35 characters each. |
| Display URL | The URL displayed to the user on the overlay. |
| Destination URL | URL top which the overlay links. Can be redirect and/or link to external site. |
External Annotations
We also offer you External Annotations, in addition to Call-to-Action Overlays, for promoting your cause. External annotations overlay on top of your video and link to your website. Although these products can be used for the same goal, there are key differences to be aware of:
Annotations can be programmed. They can be made visible only during parts of your video. Whereas overlays are visible throughout the entire duration of the video.
Annotation locations and styles are flexible. You have a choice of annotation styles, fonts and colors. You also choose where the annotation appears on the video.
Multiple Annotations per Video. You can have multiple annotations appear at the same time.
The best rule of thumb for deciding when to use this tool is how much customization do you want? If you have time to program annotations and want to get creative with your video, this may be the right tool for you.
Let's walkthrough how to set-up external annotations.
First, make sure you're logged in and are in the video manager tool. Select a video and click edit next to the video. In the black editing bar above the video, you'll see a tab for "Annotations", click this and you're now in the annotations editing menu. Click "Add Annotation", select the style of annotation, enter your text and below you'll see a small check box next to "Link". If you click this, you'll be able to hyperlink the annotation space to your website. The formatting for the url should be http:// or https:// Click save, then publish and your annotation is now live.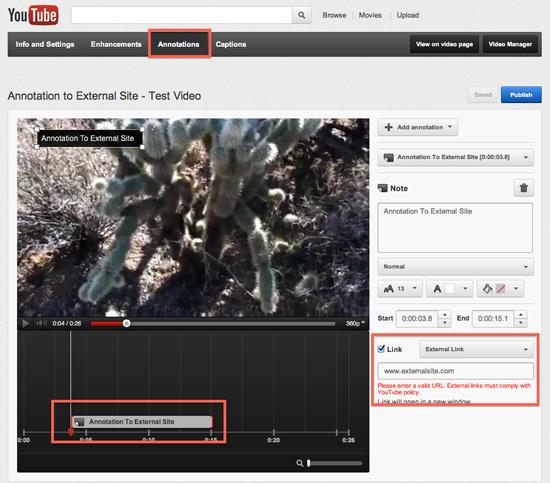 Enabling the Video and Channel Donate button
The Video and Channel Donate Button is a great feature to help you fundraise for your cause. Users will see the donate button when they are browsing your channel, or when they viewing your video on the watch page. Below is a visual example of what the Donate button looks like on a channel and video. We'll walk through the different components for the button and then how to set it up.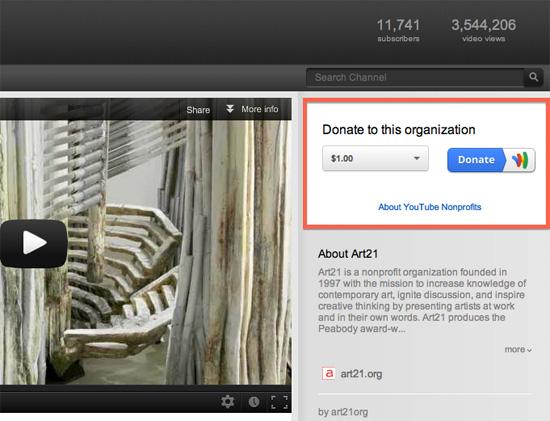 Donate Button on Channel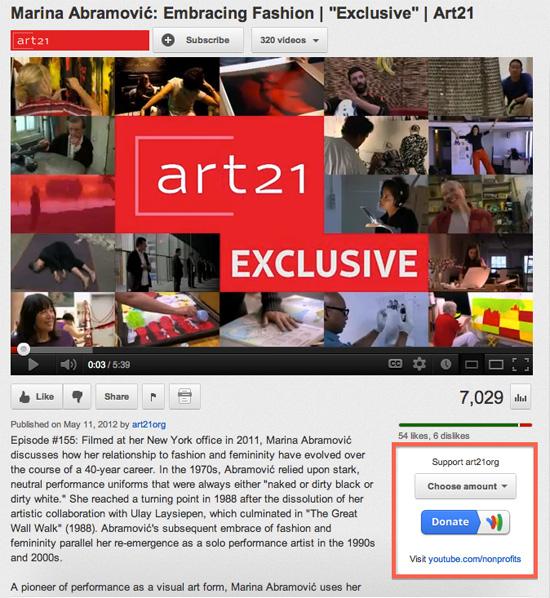 Donate Button on Watch Page
First, to set-up the donate button, you must already have a Google Checkout account and your merchant ID. Step-by-step instructions and additional details on setting-up your Google Checkout account can be found on the Google Checkout NonProfit Help Center. Next, you'll go to your channel, click edit and then select "Add Donation Module" button. Below is a screenshot that illustrates what this will look like.
You'll need to:
Enter your Merchant ID.
Monetary Increments for Donors to pick from.
Click "Apply" and your changes will save and go live.