InVideo Programming
InVideo Programming is a feature that enables you to embed a chosen video or your channel logo across all of the videos on your channel. With InVideo Programming you can:
Feature your channel branding: by adding your channel avatar as an annotation that will lead viewers to your channel page.
Feature a video: by adding a video thumbnail annotation leading to the video watch page.
How to enable InVideo Programming
To enable InVideo Programming, follow these steps:
Go to My Channel
Click the pencil icon on the right side of your Channel just below your banner and select Channel settings
From left bar under Channel settings, click on InVideo Programming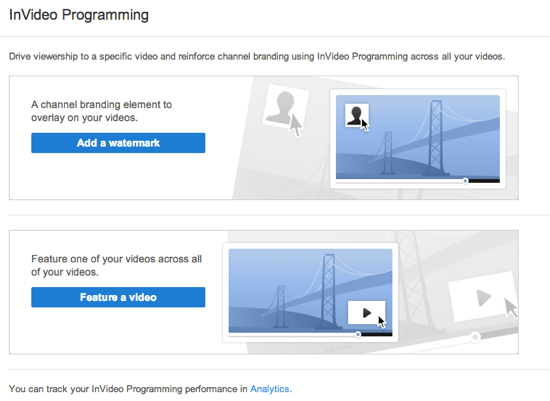 Feature a video
To feature one of your videos across all of your videos, click on Feature a video. Then, you will be able too select which type of video you want to feature:
Most recent upload: to automatically feature the most recently uploaded video
Specific video: select any video you want to feature from your uploads or enter a YouTube video URL. You can also add a custom message that will appear alongside the video.
The video you have selected will display consistently across devices in the bottom left corner. It will also include a label with the video information that appears when you hover over the video icon.
You can program any video regardless of whether you've uploaded it or not. Nevertheless, you may not use InVideo Programming to sell advertising, sponsorships, or promotions. Such activity would violate YouTube Terms of Service and may result in loss of access to the tool and/or termination of the YouTube account.
Feature your channel
To feature your channel branding across all of your videos, click on Add a watermark. You will be able to include a channel branding element that will appear in your videos. This watermark will appear in the upper right corner of all your uploaded videos across devices.
You will be able to upload an image to use as your channel watermark. The uploaded watermark will be overlaid with opacity on all your uploads so we recommend that you use transparency and just one color in the images you upload. Making good use of transparency ensures that the image will be less distracting, especially on small screens (e.g. mobile phones).
This channel promotion, will allow viewers to directly subscribe to your channel if they hover over the watermark. This option won't show to users that are already subscribed to your channel.
You can get information about the performance of your InVideo Programming campaigns by downloading the InVideo programming report. You can click the Download option at the bottom of the page.
Notes
You will be able to see your featured videos in portrait view on Android devices and in portrait and landscape view in iOS devices. Featured channels will only show custom images in Android and iOS apps but those won't be clickable.
InVideo programming is currently available on Android and iOS but doesn't work in any other mobile, tablet or TV devices.
InVideo Programming annotations do not appear on custom YouTube chromeless players.