Medical condition & symptom search
Medical condition search
When you search on Google for the name of a disease like "asthma" you might see a section to the right of your search results that highlights facts and other snippets of information about that condition.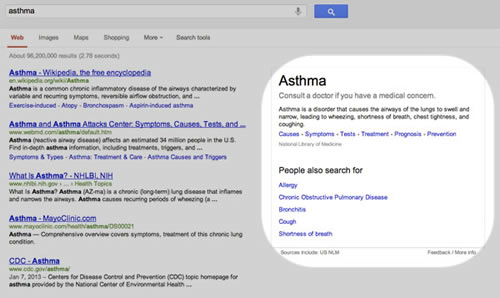 What will I see?
You might see information like the following when you search for a medical condition, though not all medical conditions will show all these facts:
A brief description of the condition
Links to pages about the condition causes, symptoms, tests, treatment, prognosis and prevention
Related searches from other users
The data comes from a number of sources, including the U.S. National Library of Medicine, as well as other sources of publicly-available data. You can learn more about these data sources below.
We try to show the most relevant facts about a condition you've searched for, but note that these may not be comprehensive, and are not intended to cover all possible causes, symptoms and treatments.
What can I do with this information?
We hope you'll find this information useful to learn more about conditions you're interested in, but it's important to understand that this information is not intended to replace the advice of your doctor, pharmacist, or other healthcare professionals. If you have questions about your own medical situation, we recommend you seek professional medical advice.
What if I see something wrong?
While we do our best to keep the information you see up to date, much of the conditions data we display is compiled by automated systems, so there's always a chance that some of the information is incorrect or no longer relevant. If you see any issues, just click Feedback / More info link at the bottom of the box and identify the piece of content in question. We'll incorporate your feedback to help improve the content in the future.
More information about data sources
The conditions data described above is drawn from many sources, including:
Medical symptom search
How does this work?
For a search that seems to be about specific medical symptoms like "cough at night", our algorithms analyze the web search results to find health conditions that may be related to the symptoms in the query. For example, if a certain condition is mentioned more often than others in the web search results for a given search, that condition is more likely to be included in the list of conditions provided. You can click on any of the health conditions to learn more about it.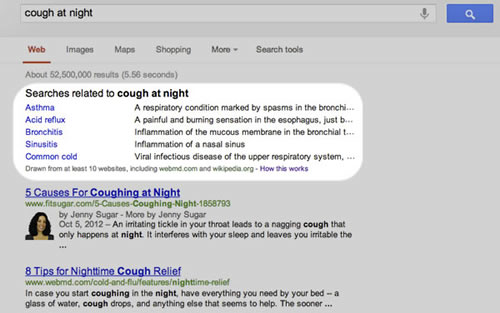 Where are you getting this information?
The list of conditions comes from an analysis of the web search results for the given search.
I think I might have a medical condition. Can I rely on this for a diagnosis?
No. We hope you'll find this useful, but the results here are a general reflection of content on the web, not medical advice. If you're concerned about a medical condition, please consult a healthcare professional.
What information about my query are you storing?
We log these searches as we do other web searches, but we avoid personalizing ads or search results on the basis of health conditions. If you have Web History turned on, you can view your search history and remove searches at google.com/history.