Filter your search results
You can filter and customize your results by using the options at the top of the results page. For example, you can choose to just see sites updated within the last 24 hours, or photos of a certain color. Some filtering options are not available in all languages or only show if you're signed in to your Google Account.
Change your settings
To change settings like
SafeSearch, search history, results per page, languages, and location, visit
google.com/preferences
.
Add or remove filters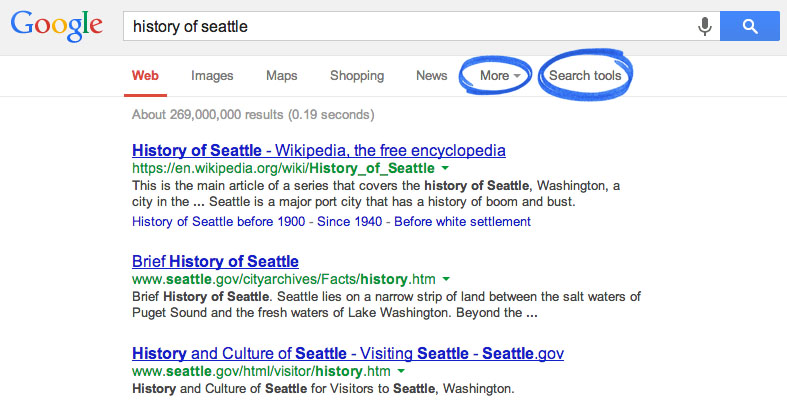 At the top of your search results page, select a filtering option like Images or News. Click More to see extra choices.
Click Search tools to see more filters you can apply to your search. Since your options will be different based on your search and the filters you've already used, you won't see all the options every time.
Select one or more filters to narrow down your search results.
To go back to unfiltered results, click Web at the top of the search results page.
To remove any filters you've added through Search tools, click Clear.
Find certain types of results
At the top of a search results page, you'll see a number of ways to filter your results to see one type of content. For example, if you're in the market to buy a new camera, search for "digital camera" then click Shopping.
Types of results you may see:
Images
Maps
Shopping
News
Videos
Books
Flights
Apps
Filter your results
Once you've decided which type of results you want, like Web or Images, you can refine your results even further using Search tools.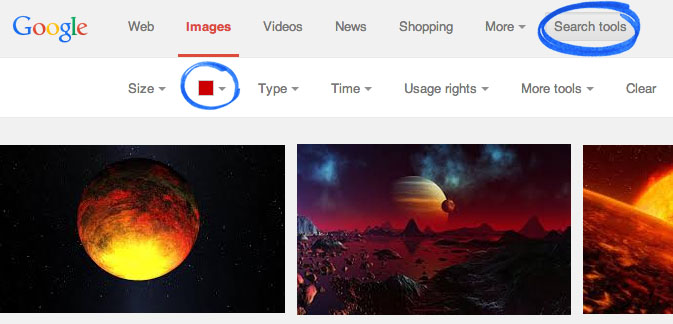 For example, here's how to see pictures of red planets:
Type [planets] in the search box.
Click Images.
Click Search tools.
Click Color, then select the red filter.
To return to all results, click Clear below the search box.
Types of filters
Search Tools you can use on Web
Search tools will be different based on the type of results you're looking at, but may include:
Publish date: Limit results according to when they were published on the Web.
Verbatim: Search for exact words or phrases.
Dictionary: Find definitions, synonyms, images, and more for your search term.
Reading level: Limit your search results by reading comprehension level.
Private: If you're signed in to your Google Account, you can see content that was shared with you on Google+ or Gmail.
Nearby: See results for your current location.
Visited pages/Not yet visited: If you're signed in to your Google Account and have Web History turned on, you can limit the results to pages you have or haven't already visited.
Videos: Filter by length of video, quality, and source, like youtube.com.
Recipes: Filter by ingredients, cook time, and calories.
Applications: Choose the price and operating system, or OS, for available apps.
Patents: Select a patent's filing or publishing date, the patent office it was filed in, filing status, and type. You can also do a patent search directly at patents.google.com.
Search Tools you can use on Images
Size: Pick between large, medium, or icon, or set the exact dimensions.
Color: Find images of a certain color, black and white, or transparent.
Type: Only see images that are faces, photos, clip art, line drawings, or animated GIFs.
Time: Find a photo that was recently published, or published on a certain date.
Usage rights: See photos that you can reuse or modify. Learn how tofind content to reuse.
Search operators
Another way to filter results is by using search operators, which are words or symbols that help you narrow down your results.