Use your watch's battery saver mode
To save power when your watch's battery gets low, battery saver will turn on automatically. You can also turn battery saver mode on or off at any time.
Note: Some of these steps work only on phones running the latest versions. Learn how to check your phone version.
What changes when battery saver is on
To save power in battery saver mode, your watch:
Limits vibration, location services, and most background data.
Turns off "Always on" display.
Won't connect to Wi-Fi or mobile-networks.
Can't use Google Maps navigation.
Turn battery saver on or off
When battery saver is on, the orange Battery Saver icon appears on top of your watch face and when you check settings from the drop down menu.
To turn on battery saver:
Swipe down from the top of your watch's screen.
Tap Settings System Battery saver .
​Have battery saver turn on automatically
Your watch is set up by the manufacturer to turn on battery saver when your battery level falls between 5% and 15%.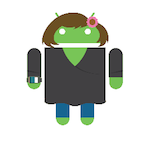 Andrea is an Android expert and author of this help page. Help her improve this article by leaving feedback below.
Was this article helpful?
How can we improve it?