Use TalkBack with Wear OS by Google
As you navigate your device, TalkBack gives you audio feedback so that you can use your watch without looking at the screen.
Note: TalkBack is an experimental feature and requires a watch with a built-in speaker.
T
urn on TalkBack when you first connect your watch
Note: TalkBack setup is only available in English. After you finish turning it on, you'll be able to choose from other languages.
Press the power button on the side of your watch to wake it up.
Press two fingers onto your watch's screen until you hear a sound. The sound means TalkBack has been turned on.
Follow the instructions to finish setup.
Turn on TalkBack later
Note: The following steps require sighted assistance.
Press the power button on the side of your watch to wake it up.
Swipe down from the top of the screen.
Tap Settings Accessibility TalkBack.
Tap Enable.
Follow the onscreen instructions and agree to any permissions.
After you turn on TalkBack, text-to-speech will take a moment to start up. You'll know TalkBack is turned on when you hear text-to-speech feedback.
Use TalkBack gestures
For all gestures, use a single motion, a steady speed, and even finger pressure. Most smartwatch gestures are similar to the main TalkBack gestures, except for the following:
| Action | Gesture |
| --- | --- |
| Scroll forward | Swipe up |
| Scroll back | Swipe down |
| Put watch to sleep | Place palm over screen |
| Back or dismiss | Two-finger swipe right |
Learn more
There's more you can do with your device after you set up TalkBack. Learn how to get started with TalkBack.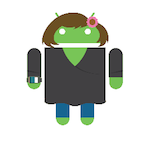 Andrea is an Android expert and author of this help page. Help her improve this article by leaving feedback below.
Was this article helpful?
How can we improve it?