Use Google Accounts on your watch
The first time you set up Wear OS by Google on your watch, you'll be guided to sign into a Google Account. You'll get notifications, share contacts, and sync apps from from this account, unless you change it later.
Add or switch accounts on your watch
If your screen is dim, tap the screen to wake up the watch.
Swipe down from the top of the screen.
Tap Settings Personalization.

Add an account: Tap Accounts Add Google Account.
Switch accounts: Tap Accounts Choose a different account.
Your watch will use the Google Account you set up when you first connected your watch. You can have multiple Google accounts on both your watch and phone.
Notes:
After you add your Google Account to your watch, you can download apps from the Play Store. Learn how to get and remove apps from your watch.
Some apps let you change the account you use to sign in.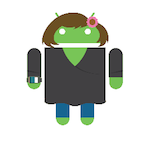 Andrea is an Android expert and author of this help page. Help her improve this article by leaving feedback below.
Was this article helpful?
How can we improve it?