See and take incoming calls
Incoming calls to your phone will show up on your watch.
Answer or reject a call
When someone calls you, you can use your watch to send the call to voicemail or take the call to your phone.
With some carriers, rejecting a call will send the caller to voicemail. For more info about voicemail, check with your carrier.
Use your watch as a phone speaker
If your watch has a speaker and it's within Bluetooth range of your phone, you can also make and receive calls on your watch. To check if your watch has a speaker:
On your watch, go to Settings .
Look for a "Sound" setting. If you don't see the Sound setting, your watch doesn't have a speaker. Learn how to play phone audio on your watch.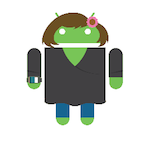 Andrea is an Android expert and author of this help page. Help her improve this article by leaving feedback below.
Was this article helpful?
How can we improve it?