See your Google app feed on your watch
If you have the Google app on your phone your watch is connected to, you can see your feed on your watch. You can see cards about traffic, birthdays, weather, and many more topics.
This feature is not available on iPhones.
Types of cards you can see on your watch
Stocks, sports, and weather
Reminders, birthdays, and appointments
Traffic, flights, and boarding passes
Hotel and restaurant reservations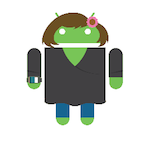 Andrea is an Android expert and author of this help page. Help her improve this article by leaving feedback below.
Was this article helpful?
How can we improve it?