Use Google Fit on your watch or phone
You can use the Google Fit app on Wear OS by Google watches to track your fitness. To learn more and manage your Google Fit settings, visit the Google Fit help center.
Set up Google Fit
If your watch is paired with an Android phone, Google Fit works best if you install the Google Fit app on the phone. Then you can access more info and sync your data between your phone, watch, and other apps.
Track steps and set daily step goals
You can set goals around how many steps you want to take every day, and check your watch to see how close you are to reaching your goal. Google Fit shows an estimate of how many steps you've taken throughout the day.
Check your heart rate
If your watch has a heart rate sensor, you can speak or use the menu to check your heart rate.
Note: The heart-rate functions are not medical devices and are intended for information purposes only. Please be sure to consult a physician before beginning a new fitness or nutrition program.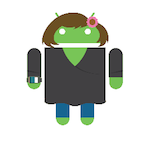 Andrea is an Android expert and author of this help page. Help her improve this article by leaving feedback below.
Was this article helpful?
How can we improve it?