Get quick answers on weather, sports & more
You can get the upcoming weather, translate greetings into many languages, convert currency, and more. Check out the examples below to learn about some of the things you can do.
Voice language availability tips: Most of the tips below work if your language is set to English, French, German, Italian, Japanese, Korean, Russian, Spanish, or Brazilian Portuguese. Some voice actions are not available in all languages and countries.
Prepare your watch for voice actions
Wear OS by Google watches
Press and hold the power button, then say your question or task. Learn more about using voice actions with the Google Assistant.
Other watches
If your screen is dim, tap it to wake up the watch.
Say "Ok Google." You'll see a microphone .
Say your question or task.
Speak to get quick answers
Get sports scores and schedules
You can speak to your watch to get the score for a current game, or see when your team plays next. Use phrases like:
"When is the next Mets game?"
"How did Leeds United do?"
Check the weather
To get the weather for your current location or a place you're traveling to, just speak to your watch. You can also get the weather by using the apps menu.
To get the weather, use phrases like:
"Weather in San Francisco."
"What's the weather in New York City tomorrow?"
"Will it rain tomorrow?"
You can also check the weather from the Weather app: Scroll down and tap Weather
.
You'll see the local weather for your current location.
See the time in other time zones
To get the time for any location, use phrases like: "What time is it in London?"
Translate words or phrases
To get translations for words and phrases, say something like the following: "How do you say 'hello' in Spanish?" or "Translate: Soup into Spanish"
From the apps menu, you can also use the Translate app
.
Get calorie counts
To find out how many calories are in common foods, say something like: "How many calories are in an avocado?"
Look up a word
To learn the definition of a word, use a phrase like: "What does onomatopoeia mean?"
Check stocks
You can track your portfolio by asking your watch for current stock prices.
To check stocks, say something like: "What's Google's stock price?"
Convert between units
To convert currency, volume, weight, and more, use phrases like:
"What's 16 ounces in pounds?"
"Convert 100 euros to US dollars."
"How many kilometers is 50 miles?"
Solve math problems
To find the calculations for math problems, say something like: "What is the square root of 2209?"
See upcoming events
To look up events, such as upcoming holidays, use phrases like:
"When is sunset?"
"When is Thanksgiving?"
Look up random facts
To look up random facts, say the following:
"Where was Albert Einstein born?"
"How tall is Barack Obama?"
"How tall is the Eiffel Tower?"
"How old is Meryl Streep?"
"How hot is the sun?"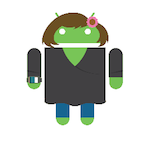 Andrea is an Android expert and author of this help page. Help her improve this article by leaving feedback below.
Was this article helpful?
How can we improve it?