Get around on your Pixel phone
These tips and tricks can help you get familiar with the basic features that you're likely to use on your Pixel phone.
Use the Home button to switch apps | Pixel
Use your screen
Select or move items
Tap to select
To select or start something on your phone, tap it.
Tip: In some apps, you can touch and hold text to see available actions, like making a restaurant reservation or playing a song.
Tap to type
To type something, tap where you want to type. You'll see a keyboard open.
Touch and hold
Touch and hold an item on the screen. After the item responds, lift your finger.
Drag
Touch and hold an item. Without lifting your finger, move your finger on the screen. When your finger is in the right place, lift it. For example, you can move apps around your Home screen by dragging them.
Swipe or slide
Quickly move your finger across the surface of the screen without pausing. For example, you can swipe a Home screen left or right to see your other Home screens.
Tip: You can open your notifications by swiping down on your fingerprint sensor. Learn how to turn on gestures.
Change the size & direction of items
Double tap to change size
On some pages, like a webpage or map, tap twice to get closer ("zoom in"). Tap twice again to back away ("zoom out").
Pinch & spread to change size
In some apps, put 2 or more fingers on the screen to change the size. To shrink, pinch your fingers together. To enlarge, spread them apart.
Rotate
As you turn your phone, most screens can rotate with it. To turn rotation on or off, swipe down from the top with 2 fingers and tap Auto-rotate .
Move between screens, webpages & apps
At the bottom of many screens, you'll see navigation controls.
Back
Open the last screen you visited, even if it was in a different app. You can go back more than once. But when you reach the Home screen, you can't go back any further.
Home
Open the main Home screen. If you don't see , tap .
Overview
To find recently viewed apps and webpages, from the bottom of your screen, swipe up to the middle of your screen. Then:

Open an app or page: Tap its image.
Exit an app or page: Swipe up on its image.
Split the screen: Touch and hold the app's icon. Then, tap Split screen.
Switch between your 2 most recent apps or pages: Swipe right on Home .
Note: On Pixel (2016) and Pixel 2, you can change which controls you see. In your phone's Settings app, tap System
Gestures
Swipe up on Home button. Then turn Swipe up on Home button on or off.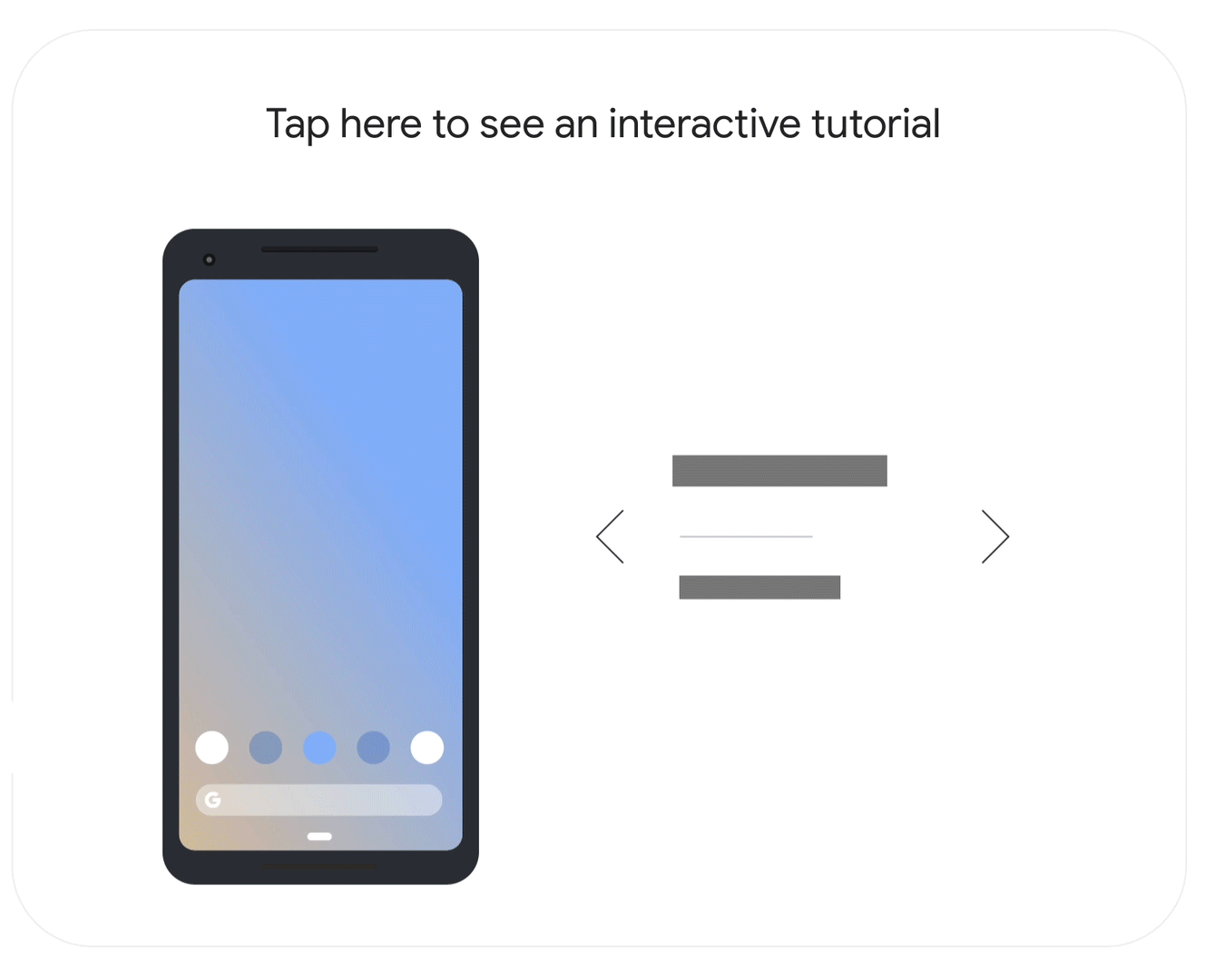 Use common features
Get to know your Home screen
Your Home screens are what you see when you don't have an app open.
In some apps, like games, these icons can go away when you're not using them. To bring them back, tap the bottom of your phone's screen.
Change the apps near the bottom of your screen
Near the bottom of your screen, you'll see a row of favorite apps.
Remove a favorite app
From your favorites, touch and hold the app that you'd like to remove.
Drag it to another part of the screen. Lift your finger.
Add a favorite app
Swipe up to the top from the bottom of your screen.
Touch and hold an app.
Move the app into an empty spot with your favorites. Lift your finger.​
Change the info at the top of your screen
At the top of your main Home screen, you'll see "At A Glance" information for where you are and what you're doing. For example, you could see the date, weather, or what's next on your calendar.
To change what shows there:
Touch and hold that space.
Tap Preferences .
Use search or turn off search bar animations
Search and "Ok Google"
You'll find Google Search on your Home screens. Search lets you search your phone or the internet.
To type your search, tap the Google icon .
To speak your search, or to tell your phone to do something, say "Ok Google." You can also tap the Assistant icon . Learn about your Google Assistant.
Turn search bar animations on or off
On Pixel phones running Android 9.0 and up, you'll sometimes see animations in the search bar on your Home screen. The animations are temporary for special events, like holidays.
To turn off these animations, or to turn them back on:
Touch and hold the search bar.
Tap More Preferences.
Turn Searchbox effects off or on.
Control your settings
Check & change common settings
From the top of your screen, swipe down once with one finger to see the settings short bar, or with 2 fingers to see the full panel. Learn about Quick Settings.
See all settings
Adjust settings for your network, sound, security, and more in your phone's Settings app .
Manage settings for the Google app & your Home screen
Touch and hold an empty space on your home screen. Then tap Home settings .
Related articles
Was this helpful?
How can we improve it?