I have this workflow that I'm trying to sort out, which is creating a combined catalogue for both mobile and camera shots.
I'm having the hardest time figuring out how to get my mobile photos synced to my local drive. I want to keep my google photos intact and don't want to upload my camera phones to google photos. I just want to view combined assets in lightroom or whatever, essentially just combined into a local folder - keeping google photos for all the goodness it has, untouched. The purely copying portion is easy if I weren't sorting the photos outside of the folder it copies too. I just don't want to keep downloading copies that have already been sorted...

I've drawn a workflow, for which to me makes sense, but perhaps I'm doing everything wrong. I hope this makes sense.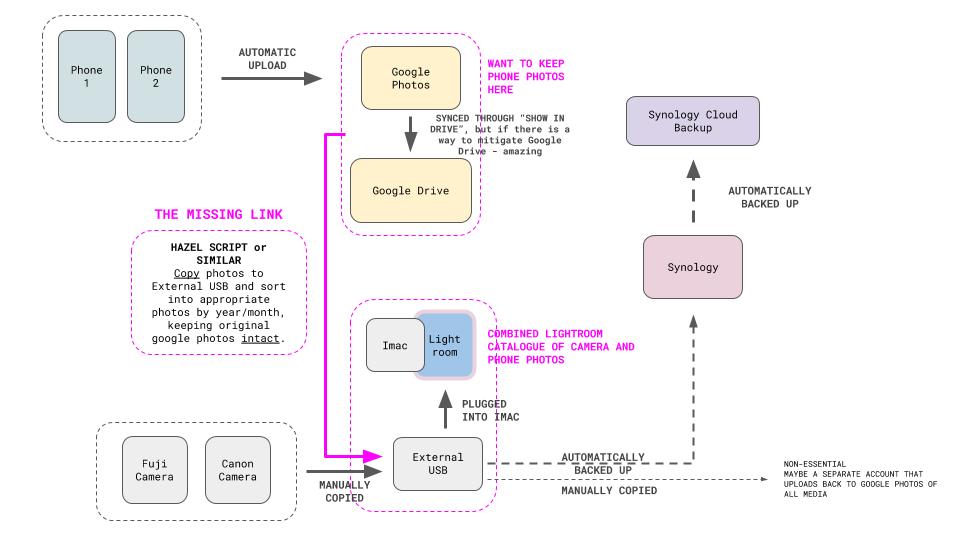 This question is locked and replying has been disabled.
This will remove the reply from the Answers section.
Notifications are off
Your notifications are currently off and you won't receive subscription updates. To turn them on, go to Notifications preferences on your Profile page.
Report abuse
Google takes abuse of its services very seriously. We're committed to dealing with such abuse according to the laws in your country of residence. When you submit a report, we'll investigate it and take the appropriate action. We'll get back to you only if we require additional details or have more information to share.
Go to the Legal Help page to request content changes for legal reasons.