Star your favorite places in Google Maps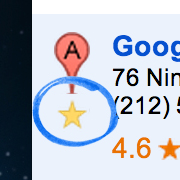 Stars are a great way to access favorite places quickly, from any computer or from your mobile phone.
To 'star' a place, click on the star outline next to its name in Maps search results, or in its info window on the Map.
See your starred places
View all the places you've starred:
Click My Places.
Select Starred.
You have access to your starred items wherever you're logged in with your Google account. Learn how to view them on your Android or iOS device.
Note: Your starred places aren't visible to the public. Only you will be able to view what places you've starred.