Read books on your iPhone, iPad, & iPod Touch
You can read books on your iPhone, iPad, or iPod Touch using the

Google Play Books app available on the iTunes App Store. Google Play Books is available for Apple devices running iOS 5.0 and higher.
If you're using an older device that doesn't work with the Google Play Books app, you can download and transfer books to a supported eReader using Adobe Digital Editions or read books on your computer on Google Play (play.google.com/books).
Download Google Play Books for iOS
Add books to your library
To add books to your library, go to Google Play on your computer (play.google.com) or the

Google Play Store app on a supported Android device.
After you add a book, it will show up in your library as long as you're signed in to the account that you used to buy the book.
To see what account you're signed in to, touch the

Settings icon. Your account will be listed under "Info".
Bookmark Google Play
To quickly shop for books on Google Play, add a shortcut to your home screen using your device's Safari browser.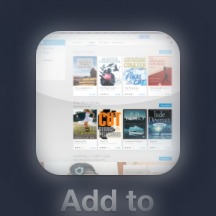 Open Safari.
Go to Google Play.
Touch the (iOS 6) | (iOS 7) Share icon.
Select Add to home screen.
Read books
To download books and start reading, touch a book's cover or touch a book's

Download icon. If you've already downloaded a book, it will open right away.
After a book has been downloaded, you can read the book without an Internet connection as long as you stay signed in to the Google Account that you used to buy the book. If you're going to be traveling and won't have an Internet connection, it's a good idea to download books before your trip.
If you sign out of your account, you'll need to download your books again before you can open them.
Manage your library
You can sort your library by date, title, or author using the sorting options at the bottom of your screen. To remove books from appearing in your library touch Manage (near the top right corner of your screen) > Archive.
To remove book samples from your library, touch Manage > Delete.
You can bring archived books back to your library by touching Manage > Archive > Restore.
Reading features
You can add bookmarks and notes, select text, and play sounds and videos with the

Google Play Books app. Some features may be different depending on the book.
Add bookmarks
To add a bookmark, touch the top right corner of the page. To remove a bookmark, touch the

bookmark icon again.
To see all of your bookmarks, touch the middle of a page >

Browse > Bookmarks.
Select text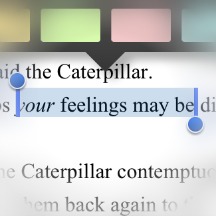 To select text, touch and hold down on a word, then drag your finger across the line of text. You can choose from the following options:
Note: Add notes to a book.

To see all of your notes, touch the middle of a page > Browse > Notes.
Define: Look up definitions.
Translate: Translate text into a different language.
Search: Search within the book, on the web, or on Wikipedia.
Some reading features are only available for books in Flowing Text mode.
Play audio and video
When books have interactive content, touch the Play button to start playing the audio or video. If you turn the page, the audio or video will stop playing.
Note: Audio and video can only be played when you're connected to the Internet. To help prevent excess data charges, you may want to connect to Wi-Fi before you stream audio and video.
Turn on accessibility options