Graphic assets, screenshots, and video
Overview
Using rich media to showcase your app's features and functionality is critical to attracting new users. Graphic assets, screenshots, and video are used to highlight and promote your application on Google Play and other Google promotional channels.
These assets are managed from your app's Store Listing page on the Google Play Developer Console.
Screenshots
You can upload up to 8 screenshots for each supported device platform; phone, 7-inch tablet, and 10-inch tablet.
Screenshots Requirements
To publish your Store Listing, you must provide a minimum of 2 screenshots.
JPEG or 24-bit PNG (no alpha)
Minimum dimension: 320px
Maximum dimension: 3840px
The maximum dimension of your screenshot cannot be more than twice as long as the minimum dimension.
Designed for tablets
You'll need to upload tablet screenshots in order for your app to be viewed in the Designed for tablets section of Google Play. Review the requirements of the Tablet App Quality Checklist to optimize your Store Listing for tablets.
Screenshots on Google Play
Your uploaded screenshots will be displayed on your app's details page on the Google Play website and Android app.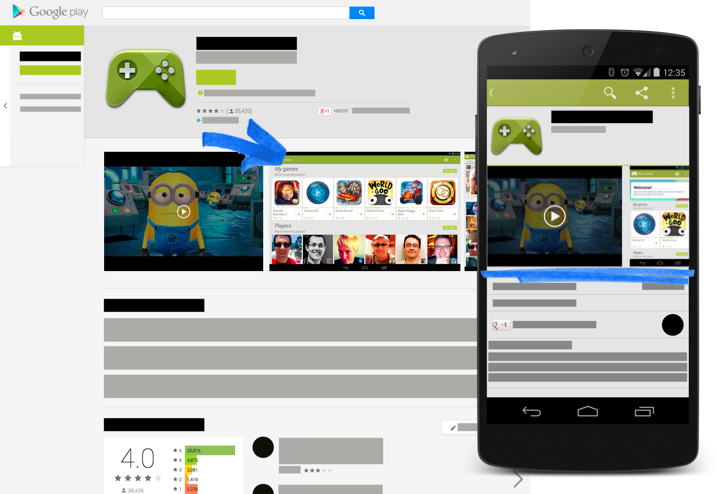 Video, if available, will always be the first thumbnail shown on Google Play. It will be followed left-to-right by the screenshots best suited for the device the user is browsing on. On the Google Play web store, tablet screenshots are prioritized and appear before phone screenshots.
High-res icon
To publish your Store Listing, a High-res icon is required. This icon is used in various locations on Google Play.
High-res icon requirements
32-bit PNG (with alpha)
Dimensions: 512px by 512px
Maximum file size: 1024KB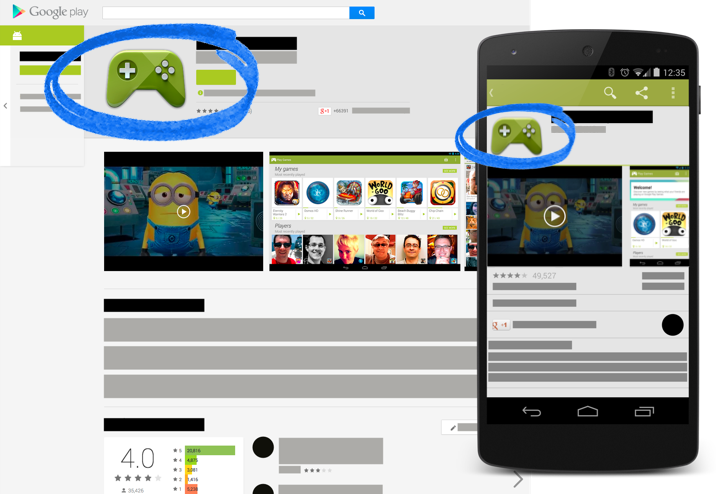 The High-res icon does not replace your app's launcher icon, but should be a higher-fidelity, higher-resolution version of it,
following the same guidelines
.
Feature Graphic
The Feature Graphic is used for promotions on Google Play. While this graphic is not required to save and publish your Store Listing, it is required in order to be featured on Google Play.
Feature graphic requirements
JPEG or 24-bit PNG (no alpha)
Dimensions: 1024px by 500px
Use a safe frame of 924x400 (50px of safe padding on each side). All the important content of the graphic should be within this safe frame. Pixels outside of this safe frame may be cropped for stylistic purposes.
If incorporating text, use large font sizes, and keep the graphic simple, as this graphic may be scaled down from its original size.
This graphic may be displayed alone without the app icon.
Check out the Android Developers Blog for detailed information about the app feature graphic.
Promo Graphic
The Promo Graphic is used for promotions on older versions of the Android OS (earlier than 4.0). This image is not required to save and publish your Store Listing.
Promo graphic requirements
JPG or 24-bit PNG (no alpha)
Dimensions: 180px by 120px
Promo Video
You can add a promotional YouTube video to Google Play by entering a URL in this field. While a Promo Video is not required, it is highly recommended as a fun, engaging way to show your potential users the features of your app.
Keep your videos short (30 seconds to 2 minutes) and focus on the most compelling features first.
If you have a device running Android 4.4 Kitkat or above, use the adb shell command screenrecord to capture video directly from your device.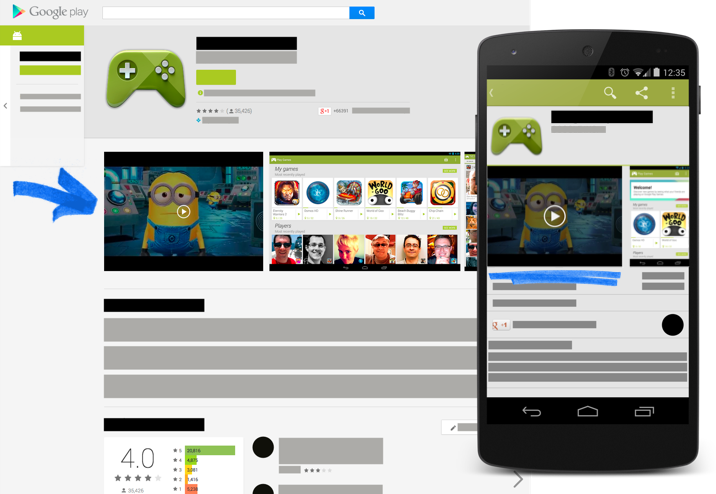 Marketing Opt-out
In order to restrict promotion of your app across Google-owned online or mobile properties, you must check the Marketing opt-out checkbox on your app's Pricing & Distribution page.