Start here if you have a new Google Nest Doorbell (battery), or if you've removed your Nest Doorbell (battery) from the app and want to add it back.
You need the app to connect your doorbell to Wi-Fi and get recorded video, so you should always use the app as your primary guide to set up and install your doorbell.
Here's a brief overview of steps to get started with wired or battery-only installation, along with some important troubleshooting.
This article only applies to the following device: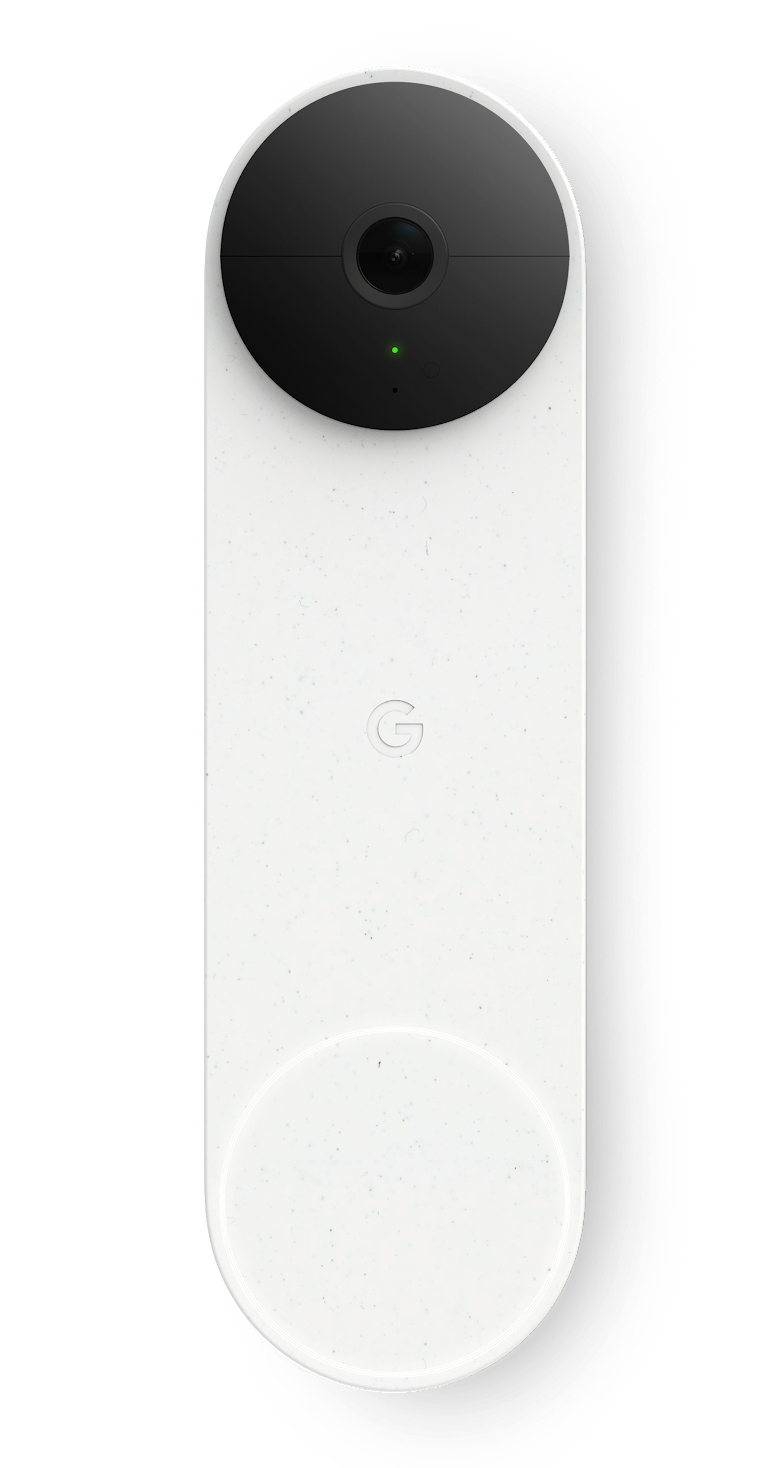 Nest Doorbell (battery)
More installation help
For help with installation of the Nest Doorbell (wired), go to our Install Nest Doorbell (wired) article.
You can also find instructions to install the Nest doorbell with an indoor power adapter.
Installation videos
Battery-powered installation
How To Install Your Battery-Powered Nest Doorbell Wire-Free
Wired installation
How To Install Your Nest Doorbell With Existing Chime Wires
Battery-powered installation
Wired installation
1. Check compatibility and voltage requirements
While the Nest doorbell can replace most wired doorbells, there are some cases where the doorbell system either doesn't give enough power or gives too much power. You should check that your current doorbell can be replaced by the Nest doorbell.
Check doorbell system compatibility with Nest doorbell
2. Check that you have everything for installation
Check that you have all the parts included in the box.
What's included in the box:
Nest Doorbell (battery)
Wall plate
Wedge
Wire extenders
Screws
Wall anchors
Spacers
Unlock tool
USB-C to USB-A charging cable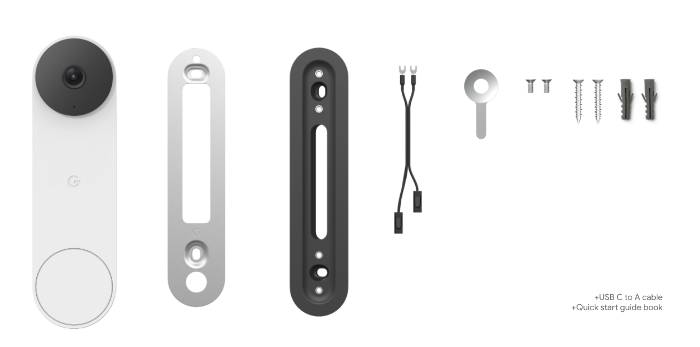 Need a wedge?
The Nest Doorbell battery already comes with a wedge that you can use to adjust the doorbell's camera angle if it's located in a corner. This wedge can angle your doorbell up to 20°.
If your doorbell needs a wider angle to view important activity (Like 35° to 55°), you can purchase a Made for Google doorbell wedge.
Tools:
Phillips screwdriver
Power drill

Phillips drill bit
1/4 in (6 mm) ( drill bit (for wall anchors)
3/32 in (2.38 mm) drill bit (optional, to drill into hard materials like brick and stucco)

Bubble level (to check doorbell alignment)
App and internet requirements:
The Google Home app
A compatible phone (to connect to Wi-Fi and use the Home app)
Your Wi-Fi network name and password
A broadband internet connection, with at least 2 Mbps for your doorbell
3. Charge your doorbell before installation
Use the included USB-C cable to charge your doorbell. Keep it plugged in during setup so that it can connect to the app and Wi-Fi network.
The status light will pulse white when your doorbell is charging, and will appear solid white when it's completely charged.
4. Turn the power off to your doorbell system
Switch the power off for your doorbell and chime at your home's breaker or fuse box. This will protect you and your equipment during installation.
Try to ring your doorbell to confirm that you've flipped the right switch to turn the power off. If needed, you can switch off the main power at the breaker box instead.
5. Remove your old doorbell
Remove your old doorbell and disconnect the wires. You'll probably need a screwdriver for this step.
Note: If you plan to replace the Nest Doorbell wired, you'll need to remove the chime connector that came with it, too–your Nest Doorbell battery doesn't need it for wired installation.
Uninstall Nest Doorbell (wired)
Tip: As you remove your old doorbell, bend the doorbell wires or tape them so they don't slip back into the wall.
6. Connect the doorbell to the app with the QR code
Follow the steps below to add your doorbell to the app and begin installation.
If you haven't already, download the Google Home app from the Apple App Store or Google Play Store.
Open the Home app . If prompted, sign in with your Google Account.
On the home screen, tap Add device or service .
Select Set up device New device.
Choose the home you want to add your doorbell to, or select Add another home to create a new one. Then, tap Next.
The app will try to look for nearby devices. If prompted, select the Nest Doorbell (battery) as the device you want to set up.
Use your phone's camera to scan the QR code on the back of the doorbell. You can also tap Continue without scanning and enter the numbers near the QR code.
The app will help walk you through setup and installation.
7. Troubleshoot if needed
During setup, the app lets you connect your doorbell to Wi-Fi, personalize settings, check the video quality, and more.
If you have any issues, here are some quick tips.
Connection issues
If you can't find your Wi-Fi network, or if your doorbell has trouble connecting to the Wi-Fi, here are a few things you can do to try and fix the issue:
Wait a few minutes, then try to connect your doorbell again.
If possible, Move your doorbell and router closer to each other to improve the signal.
Try restarting your router.
If you have a hidden Wi-Fi network, you'll need to type in the network name (SSID) manually in the app.
For more tips, go to our
Troubleshoot adding Nest camera to the app
article.
Power issues
Signs that your doorbell isn't getting enough power include the following:
Your doorbell won't turn on.
You get a message or status in the app telling you the battery is low.r.
Things like the Wi-Fi connection and the video quality can also be reduced when there isn't enough power.
For troubleshooting steps, go to our
Troubleshoot battery issues for Nest camera and doorbell
article.
Video quality issues
If your doorbell is having video delays or lag, it's usually a sign that the Wi-Fi connection is weak. It could also be a sign that your doorbell doesn't have enough battery. Try the following to try to fix the issue:
If possible, move your doorbell and router closer to each other to improve the signal.
If your doorbell's video is distorted, here are a few things you can do to troubleshoot:
Dust off the camera lens.
Ensure your doorbell is shaded and protected from extreme weather conditions. While Nest doorbells are built to work outside of your home, extreme hot or cold temperatures can affect things like the video quality.
For more tips, go to our Troubleshoot Nest camera video distortion article.
Chime issues
If you have a mechanical chime with moving parts and it didn't ring or didn't sound right, try the following:
Remove the chime cover and check that the wires aren't touching any moving parts.
Next make sure that any exposed wire ends (with bare copper showing) aren't touching each other.
Then test your chime again
You can get more help to troubleshoot chime issues in our help center.
8. Use your doorbell
Learn more about Nest doorbell basics, how to change settings, and more in our Get started using your Nest doorbell article.
Connect power wires to Nest Doorbell
Before you connect the wires make sure they are clean.
Connect the power wires to the wire connectors.

It doesn't matter which connector you attach a wire to.
Press down on the release tabs to insert the wires into the connectors.
If you see exposed wire, remove the connectors and trim any excess wire.

Important: Don't let the connectors touch the backplate. This can cause an electrical short and damage the doorbell. Make sure that they only touch the screws. Tighten the screws to secure the connectors.
Make sure the wires point down, not up, so the extra wire can be tucked back into the wall.