Start here to uninstall your Google Nest Doorbell (wired) if you plan to move, install a new doorbell or service your doorbell system.
This article only applies to the following device: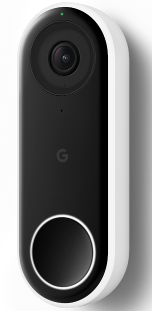 Nest Doorbell (wired)
This is what you'll need to uninstall your Nest Doorbell:
Phillips screwdriver
Release tool included with your doorbell. A thumbtack or paper clip can also work.
1. Turn power off at the circuit breaker box
Turn power off for your doorbell at your home's circuit breaker box.
To make sure that the power is off for the Nest Doorbell, check that the light is off and that it doesn't ring when you press the chime button.
If needed, turn off the central power for your home to ensure that the power is off.
2. Remove the doorbell
To detach the Nest Doorbell from its wall plate, insert the included release tool into the small hole at the bottom of the doorbell. If you don't have the release tool, you can also use a thumbtack or paper clip instead.
3. Disconnect the wires
Use a screwdriver to loosen the screws on the back of the Nest Doorbell and detach the doorbell wires.
If a Nest wire extender was used during installation, detach that from the system wires too. Pinch each terminal to open it up, then pull the wire out to disconnect it.
4. Uninstall the wall plate
Now that your doorbell has been removed, use a screwdriver to remove the screws and detach the wall plate.
5. Uninstall the chime connector
Important: When you disconnect the chime wires from the chime connector, you'll need to reconnect each chime wire to the correct wire terminal. Otherwise, your doorbell's chime might not work as expected.
To uninstall the chime connector, follow the steps below.
Go to the chime box and remove its cover. Tip: Doorbell chimes are usually mounted on the wall near the front door. Some covers simply pull off, but others might need to be unscrewed.
Disconnect each chime wire from the connector wire. Then, reattach the chime wires to their terminals in the chime. You should use the photo that you took of your chime's wiring to know which wire to connect to which terminal. Tip: If you don't have a photo and you're not sure how the wires are supposed to be connected, take a photo of your chime's wiring before you disconnect anything. That way you can properly reconnect the wires to the chime connector if you need to.
Once all the wires are reconnected, remove the chime connector and put the chime cover back on.
Note: If you plan to install a Nest Doorbell (battery), you won't need the chime connector that was installed with your old Nest Doorbell (wired), even if you plan to install your new doorbell using the system wires.