October 15, 2019
Seeing your product in action helps convert customers eager to try before they buy. This is especially true for beauty brands. Now with the help of augmented reality, trying on lipstick, once only possible in-store, can be done virtually on YouTube.
At the Cannes Lions Festival of Creativity this year, we introduced AR Beauty Try-On, which lets viewers virtually try on makeup while following along with YouTube creators using front-facing smartphone cameras. We made AR Beauty Try-On available first through an alpha with FameBit by YouTube, Google's in-house branded content platform.
Today, we are announcing that AR Beauty Try On is available to brands globally in a beta with YouTube Masthead and TrueView video discovery ads.
Using this new AR feature, beauty brands will be able to offer realistic, virtual product samples that work on a full range of skin tones, to YouTube's 2 billion monthly active users, delivered via the YouTube Masthead or TrueView Video Discovery video ads across IOS and Android, and measure their engagement.
The Masthead and Trueview Discovery Video ads represent a unique opportunity for advertisers to showcase their brands in the YouTube home feed across devices.
Through YouTube's AR Beauty experience, consumers can browse, virtually try on, and shop for makeup directly. Once viewers tap the mobile Masthead or Trueview Video Discovery ad and enter the watch page, they can use front-facing smartphone cameras to see how new shades of lipstick look with their skin tone and facial features, and even purchase the products from the video.
Brands like NARS, a leading cosmetics company, are using AR Beauty Try-On to deliver a more engaging experience that lets users try on different shades of lipstick in real-time. As one of the first brands to run TrueView Discovery video and Masthead ads with the Beauty Try-on feature, NARS has reached over 20 million people to-date in the US, UK, Canada and Australia with the activation. For those that have engaged within the experience, on average they try on more than 2/3 of the 24 lipstick shades featured. That's over half a million shades in total tried on to-date.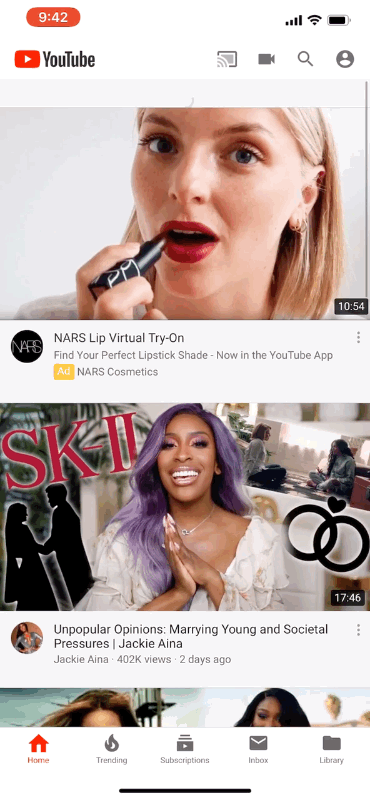 GIF from NARS AR Beauty Try On Masthead ad
Contact your Google sales team for more details on this feature.
Posted by Samantha Weissman, Product Manager, AR Beauty