Expanded audience and buying features for the YouTube Masthead
February 4, 2019
Every year, after the Big Game, football fans flock to YouTube to re-watch their favorite ads or catch those they might have missed. For brands, it's a unique opportunity to reach a massive audience they can't find anywhere else.
A great way to take advantage is through the YouTube Masthead, a video format that appears at the top of the YouTube Home feed on mobile and desktop. The Home feed has become a destination for our users over the past few years, as watchtime from content discovered there has grown 10X in the last three years.1 New features like Autoplay on Home, which helps people preview and watch videos on-the-go without audio, make it even easier for people to discover and engage with their next favorite brand, video or creator there.
Historically, the Masthead has been reserved by one advertiser per country on a cost-per-day (CPD) basis. Today we are experimenting with another way to buy aimed at expanding the opportunity on the most prominent ad spot on the YouTube Home feed.
Through the beta, advertisers can purchase the Masthead on a cost-per-thousand (CPM) basis, and customize the audiences they want to see it. The placement will remain as a reserved buy, with impression guarantees across campaign flights that can range from a single day and up to seven days, ensuring brands can drive the visibility they need on the dates that matter most.
In addition to driving mass reach, the Masthead is also memorable and effective: Masthead ads have a significant impact on Ad Recall, with an average lift of 92%, and drive an average 46% lift in Purchase Intent.2
Brands like TurboTax have been leveraging the Masthead to extend the reach of their campaigns. TurboTax, from Intuit, returned to the NFL Super Bowl for its sixth consecutive year. TurboTax booked the CPD Masthead to run the Monday before the Big Game, with a video creative that emphasized how people can file simple taxes completely free with TurboTax Free Edition. The company bookended its first placement with another Masthead and video ad today introducing TurboTax Live, a new product that lets taxpayers easily click and connect with certified tax experts live on screen.
"The YouTube Masthead is a key lever in our end-to-end Super Bowl strategy this year given the massive scale, timing, and relevance. The Masthead is a great way to introduce the new way of doing taxes with TurboTax Live, now with Certified Public Accountants and IRS-licensed Enrolled Agents on demand. It's very timely and relevant to be front and center on YouTube, the biggest online video platform, on the day after the Super Bowl, the biggest day in both football and advertising," said Cathleen Ryan, VP Marketing at TurboTax.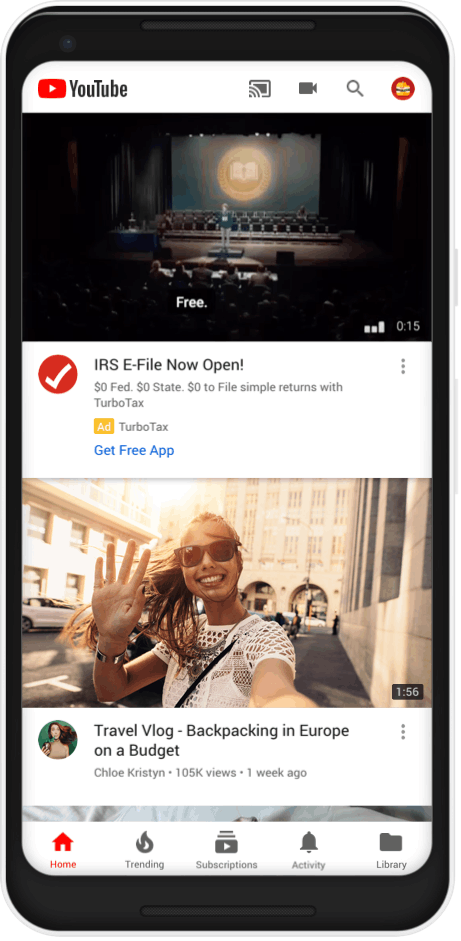 Mobile Masthead from TurboTax
The added flexibility that CPM buying enables, combined with the appeal of the YouTube Home feed, means the potential impact of the Masthead has never been greater.
Preview the Masthead with your own content and customizations here. Contact your Google sales team for more details on this placement.
Posted by Amy Vaduthalakuzhy, Product Manager, YouTube Ads
---
1. YouTube Internal Data, Global, Jan 2015 vs. Jan 2018.
2. Google/Ipsos Lab Experiment, US, 30 ads tested among 3,000 US residents 18-64 y/o US, March 2018
Was this helpful?
How can we improve it?