August 30, 2022
Searches for "store open" have grown globally by over 400% YoY1, so it's critical for businesses to offer a seamless experience between brick-and-mortar and online shopping this holiday season. For many businesses, not all conversions are worth the same amount. Conversion value rules let you adjust the value of conversions as they relate to your business so you can optimize in real time to those values. Historically, value rules applied to all conversion actions equally, including store visits and store sales. Now, we are rolling out the functionality to apply rules to specific store visits or store sales conversion categories.
For example, you can set store visit or store sales default values at the campaign level: You could set your store visit value at $100 for campaigns promoting big ticket items and at $10 for campaigns promoting lower price or low-margin products.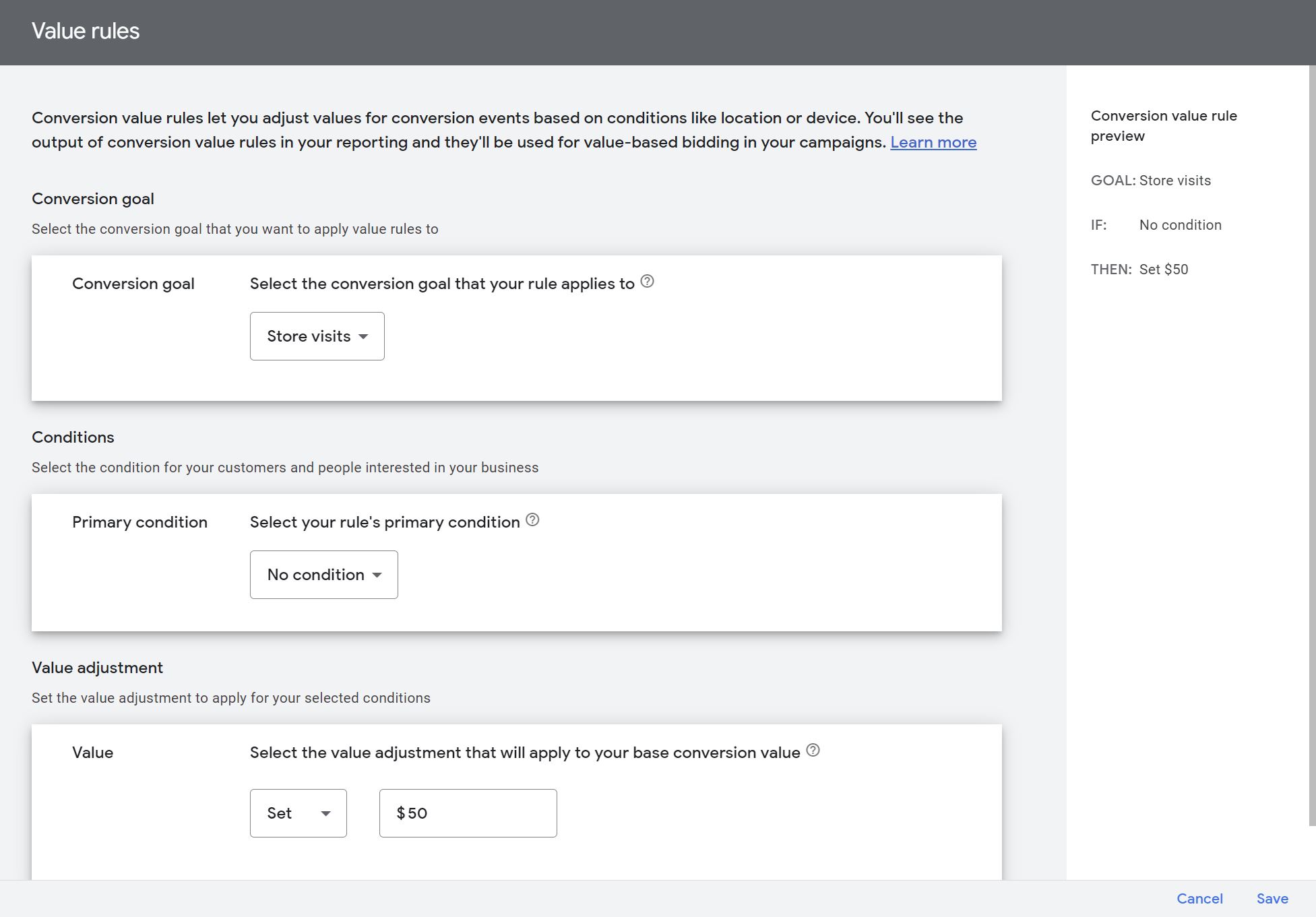 One example of a conversion value rule is selecting a value adjustment for your store visits conversion goal. This is the current UI as of 8/24/22 and is subject to change.
Or, if you're dynamically measuring store sales values, you might want to tweak those offline values to account for other reporting or optimization needs, such as increasing the weight of online conversions to grow your ecommerce program. For example, you could decrease store sales value by 20% across your account to prioritize ecommerce sales. Adjusting the weight of your online vs offline values could be particularly useful during the holiday season as online vs in-store shopping patterns fluctuate during cyber week and after the shipping cut-off.
Alternatively, you can also set rules for store visits or store sales on the following conditions: geographic location, audiences (including Google-curated and first-party) or devices. For example, if you consider store visits from your loyalty program audience to be more valuable, you can create an audience value rule that says, "if user is in the loyalty program audience, then multiply store visit value by 2."
Danish retailer ILVA uses conversion value rules to optimize for values in real time to better meet its business goals.
"Because we have so many product categories with differences in average basket size, a flat store visit value across all campaigns wasn't the best indicator of actual performance. We had to manually compensate for a higher than average store visit value by decreasing the target ROAS and vice versa. Now we're able to use different values across campaigns, which saves us time and provides more accurate performance data."
— Claus Enggaard Pedersen, Digital Performance Manager, ILVA
To learn more, visit the Google Ads Help Center.
Posted by Irem Erkaya, Product Manager, Google Ads
1. Google Data, Global English, Mar 22, 2022 - May 20, 2022 vs Mar 22, 2021 - May 20, 2021