October 28, 2021
To help users feel confident that your app experience is keeping their data private and secure, we announced earlier this year that Google Play will be rolling out a new Data safety section in the Play Store. As marketers, working with your developer teams to help your company submit complete and accurate information about its app's privacy and security practices can ensure easier approval in the review process and prevent disruptions to your app.
Starting in February 2022, app users will be able to review a summary in the Play Store app listing page for the data apps collect and share, and why. This includes data used by the app's third-party libraries or SDKs, and may also include whether your app:
Follows certain security practices, like data encryption
Provides a mechanism for users to request deletion of their data
Is committed to following Google Play's Families policy (feature to come in the Console)
Has been reviewed for conformance with an independent global security standard (optional feature to come in the Console, you can express interest here)
Users can tap into the new Data safety section to view more details, such as:
What types of data your app collects and shares, such as location, contacts, personal information (e.g. name, email address), financial information and more
How your app uses this data (e.g to support app functionality, personalization, communication with users)
Whether data collection is optional or required in order to use your app
What the new Data safety section may look like: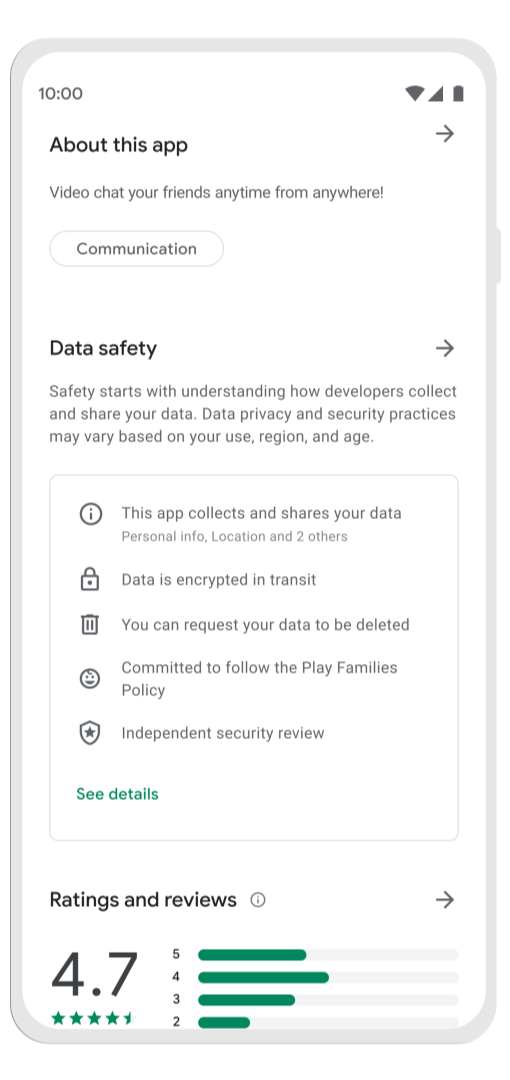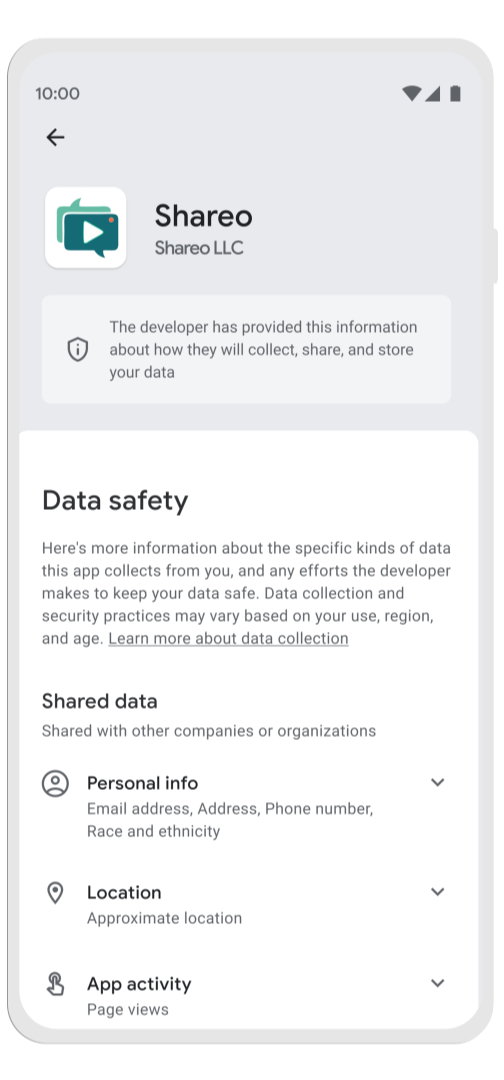 Note: Images are directional and subject to change as we continue working with developers to design for the best blend of developer and user experiences
How to prepare
As part of launching the new Play Store Data safety section, Play will require all apps distributed via the Play Store to provide data security and privacy information through the Google Play Console. This applies to all apps published on Google Play, including Google's own apps. You can already begin entering relevant information for your app for review as early as today by going to the new Data safety form under App Content in Play Console. To give you plenty of time to adapt, you will have until early next year to get your Data safety section approved. If your app's information is not approved by February 2022, the Data safety section in your app listing will display "No information available," and by April 2022, new app submissions and app updates will be rejected in Play Console if there remain unresolved issues with the app developer's form. After April 2022, non-compliant apps may face additional enforcement actions.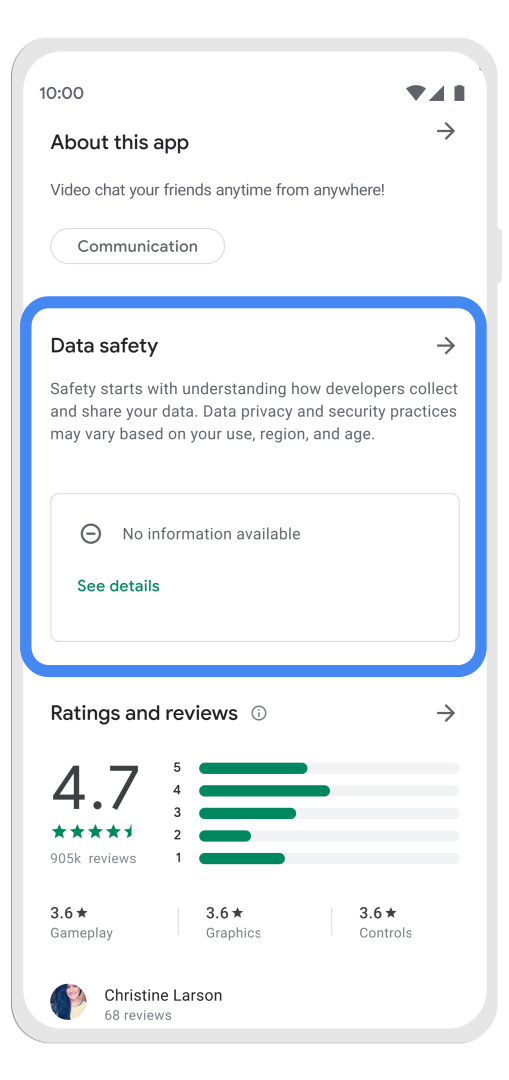 Depending on the types of user data your app collects or shares, the time you need to complete the Data safety form may vary. We encourage you to start this process early to allow for time to align with your development, policy, and other teams. This is particularly important if your business has multiple apps that are subject to different data gathering practices, or if your app utilizes data from third-party libraries and SDKs. In addition to assessing the data your app collects and shares directly, your teams may need to reach out to third-party vendors to find out the same for your embedded libraries and SDKs.
To help you get ready for these changes, we're sharing the following resources:
Posted by Tina Sriskandarajah, Product Manager, Play and Android Trust & Safety