August 31, 2021
The holidays are upon us. As of June, 58% of U.S. holiday shoppers said they will shop online more this season than in previous years and 59% said they will shop earlier to avoid an item being out of stock.1 In fact, U.S. searches for "holiday gift ideas" in August have already surpassed 2020 levels. To help you stand out, we're introducing new annotations to highlight fast shipping, easy returns, and new business identity attributes this holiday season.
Highlight your shipping and return policy directly in your ads
Shoppers are looking for the best value for every dollar, especially during seasonal shopping, and the quickest shipping option and ease of returns are top-of-mind. In fact, "Next day delivery" searches have grown globally by over 70% YoY.2 Today, we are announcing new shipping and return annotations in Google Search and Shopping results–across free and paid listings.
Shoppers can now see when their orders will arrive with shipping annotations like "Free delivery by Fri, Dec 24", "Get it by Dec 24" and Fast & Free badging for products that ship for free in 5 business days or less. Merchants who highlight 1- to 3-day shipping in their free listings on the Shopping tab see an 11% increase in average CTR. If you haven't already, check and make sure you have set up your shipping information in Google Merchant Center. You can also synchronize your shipping data with providers such as FedEx, USPS, and UPS so that Google can calculate custom shipping speeds for your customers. And finally, you can also use the shipping attribute in your feed to specify each product's shipping cost and speed.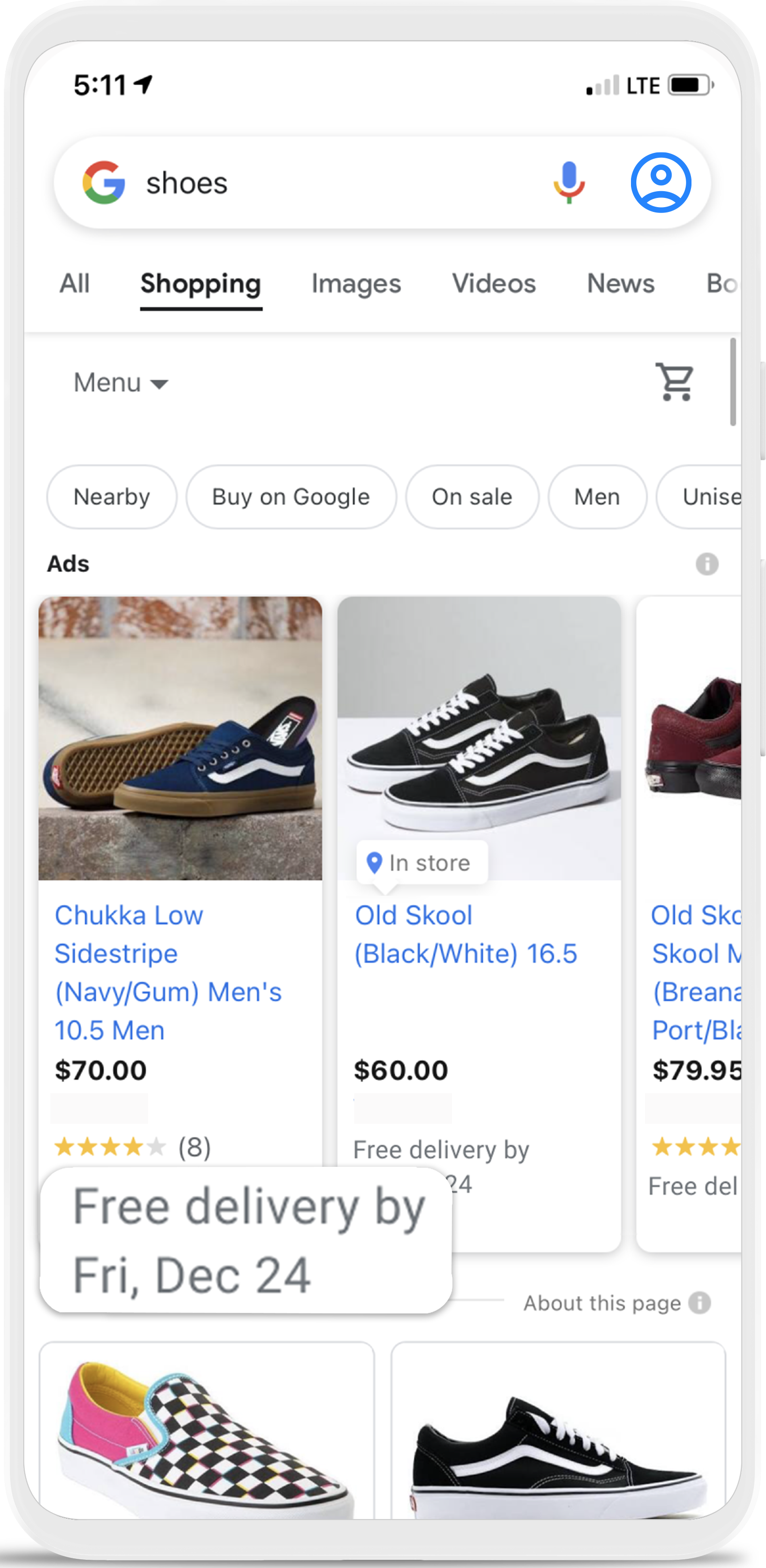 "Free delivery by Dec 24" annotation
To give shoppers more confidence in their purchases and added reassurance when it comes to returns, you can now indicate extended holiday return windows with return annotations like "Free 90-day returns" or "Free returns until Jan 31."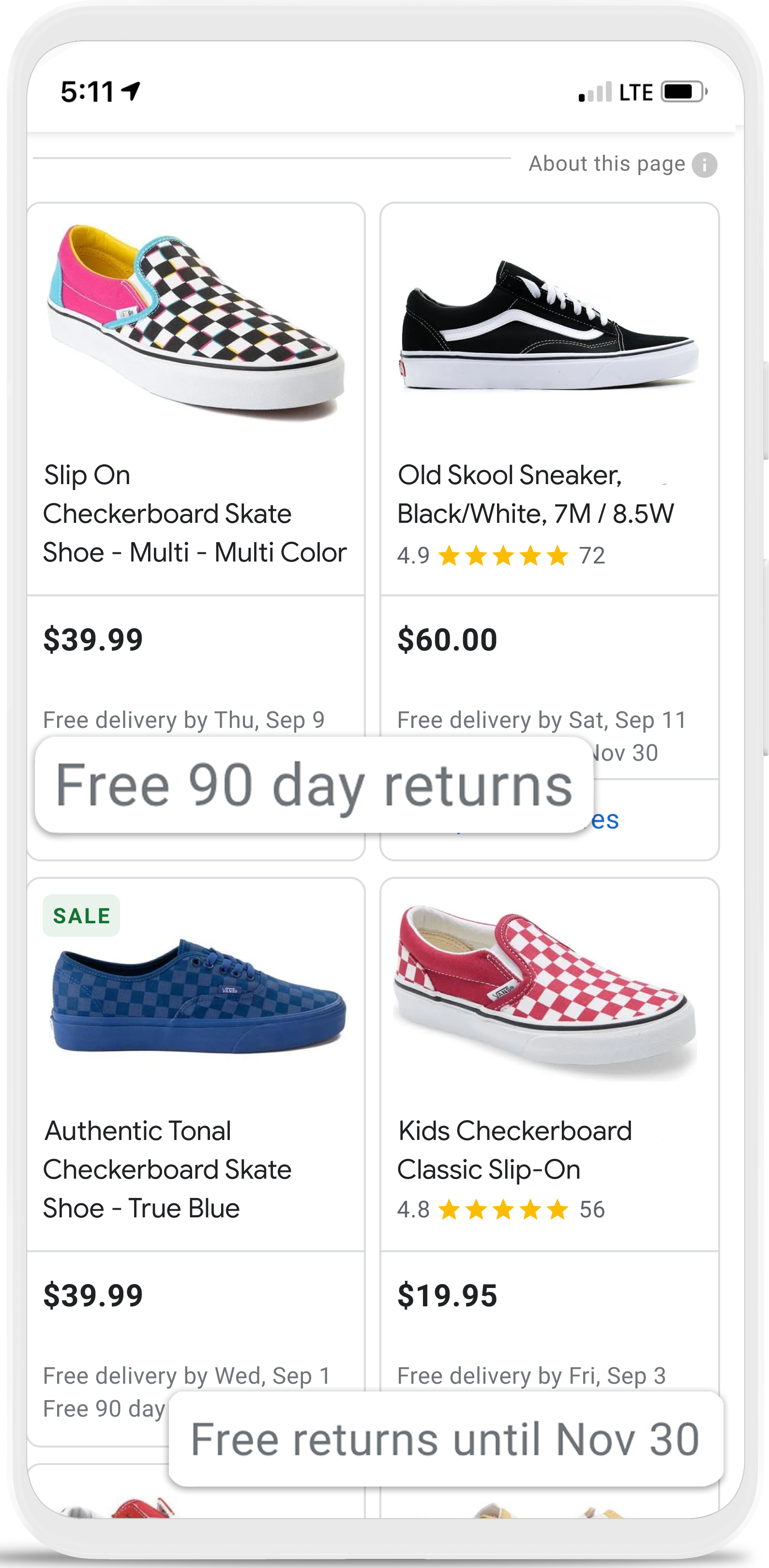 "Free 90 day returns" and "Free returns until Nov 30" annotations
Elevate your business identity with Women-owned or Veteran-owned attributes in Merchant Center
71% of consumers prefer buying from companies aligned with their values3 and we want to make it easier for businesses to get discovered by these shoppers.
Earlier this year, we launched the Black-owned business identity attribute so people can easily identify and buy from Black-owned businesses on Google. We are building on that momentum and adding two new attributes: Women-owned and Veteran-owned. You can add these new attributes in Merchant Center today. Self-identification is optional and only available to retailers based in the U.S. The feature will become visible to shoppers soon.

Veteran-owned new business identity attribute
Venus Williams and Stephanie Morimoto on women supporting women
Talking Shop, a series of conversations to elevate the voices of underrepresented business leaders, features Venus Williams and Stephanie Morimoto. In this episode, Williams, tennis champion and founder of two successful businesses, and Morimoto, CEO of Asutra, discuss the value of inclusion and representation, explain why their work is anchored in supporting other women and discuss digital marketing strategies to grow their Shopify businesses. Williams mentions, "Communities are better when women are empowered. I've faced inequality as a woman, and it's not fun, and it's not pretty, but hopefully, we're breaking down more doors and more barriers."

Talking Shop episode with Venus Williams and Stephanie Morimoto
As the holiday season approaches, we want to provide you with the tools and features to truly stand out and highlight information that matters to your shoppers upfront. Check out our retail marketing guide for the latest holiday best practices across our free and paid solutions.
Posted by Jeff Harrell, Senior Director, Shopping
1. Google commissioned Ipsos COVID-19 tracker, US n-506 Online consumers 18+ that plan to shop for the holidays, June 17-20, 2021
2. Google Data, Global English, Jan 26, 2021 - Mar 26, 2021 vs Jan 26, 2020 - Mar 26, 2020.
3. 5W Public Relations' 2020 Consumer Culture Report.