---
So far, we've covered a lot about how to reach omnichannel goals. But what about offline-only or store-specific goals? You may want to take a different approach for growing just in-store sales. For example, if you have a dedicated offline budget, or if you are looking to increase sales in a subset of your locations.
Grow store visits with Performance Max campaigns for store goals
Performance Max campaigns for store goals is the new upgrade to Local campaigns that allows you to promote your physical business locations across Google Search, Maps, YouTube, Gmail, and the Google Display Network. This cross-channel campaign type can help you reach potential customers at scale and provide them with the information they need to visit your store, including location details, hours, safety information, and available services like curbside pickup, take-out, drive-thru and reservations.

Performance Max campaigns for store goals are specifically designed to increase visits to your physical locations. For example, a retailer may use it to promote a new store opening, a restaurant may choose to promote seasonal menu offerings, or a gym or insurance agent may use local actions to promote their locations and pre-qualify potential customers over the phone before arranging a visit.
You can use Performance Max to support specific store locations, maximize traffic for all locations, or drive store visits by showcasing your in-store products.
Note
To access Performance Max campaigns for store goals, you must have active location extensions or affiliate location extensions in your account or have a Business Profile connected to Google Ads.
Your campaign must be set up within an account that is active and eligible for store visits (regardless of Google channel) or be optimizing towards Local Actions (Google hosted contacts and directions).
Visit the Performance Max Help Center to learn more about Performance Max campaigns.
Easy campaign set up
Provide the business locations you want to promote, a campaign budget, and creative assets (ad text, logo, images, and videos). Using these inputs, Google's machine learning will then automatically optimize your bids, ad placements, and creative combinations to help drive people to your stores.
Visit the Performance Max Help Center to learn how to create a Performance Max campaign.
Tip
For holiday peaks or weekend sales, start the campaign 2-3 weeks in advance, then refresh your creative frequently to move from more generic store creative to sales-focused creative. This allows you to do time-based promotions with optimal performance.
Promote your in-store products (optional)
Within an existing Performance Max campaign, promote ​​your in-store products by applying your business data feed. You can highlight specific product promotions, new menu items, priority car models, new device launches and more.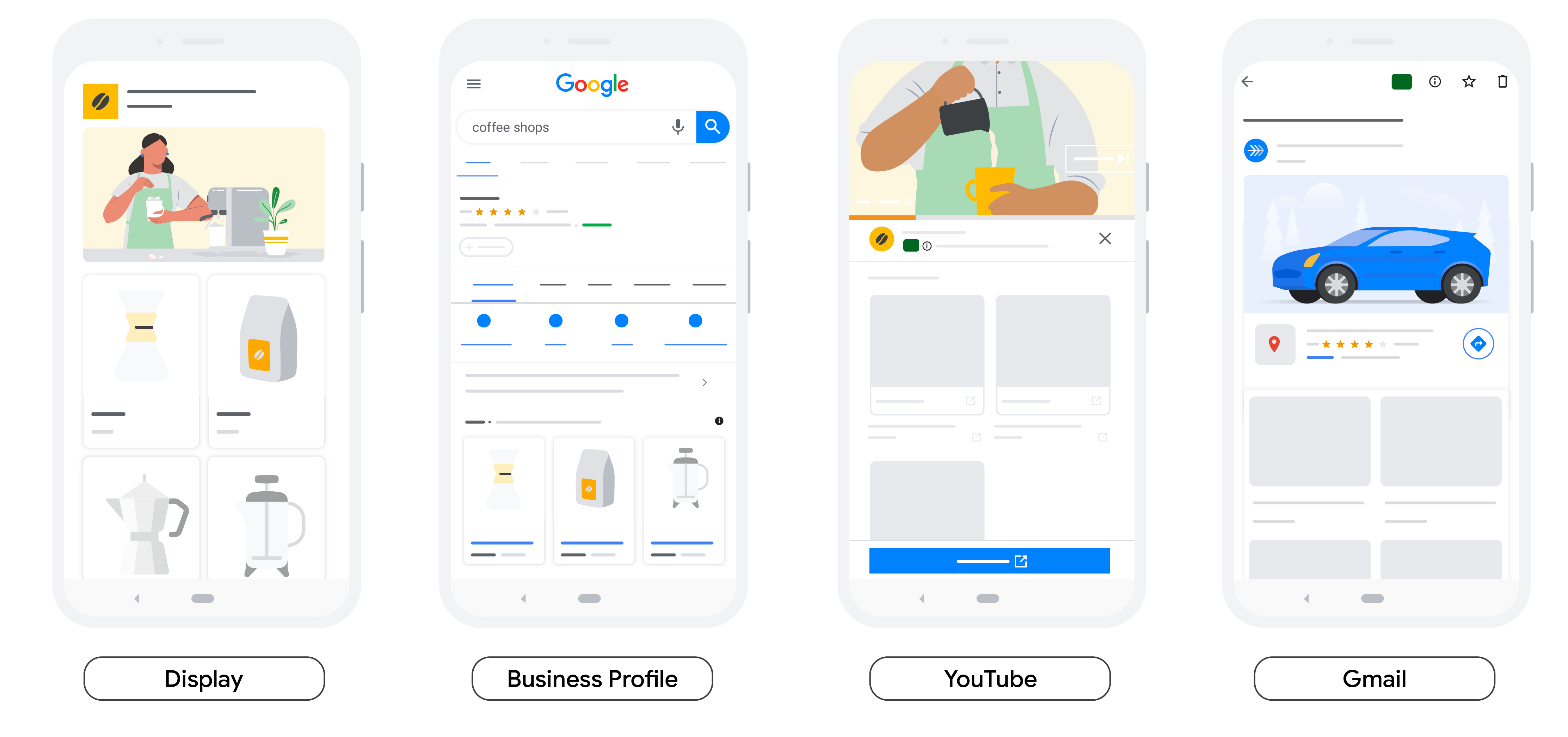 Visit the business data feed Help Center for more information.
Reach your most valuable audience
If you have unique insights on which segments of users are most relevant to your business (e.g. customers who have previously made a purchase), you can add audience signals to your campaign to guide the machine learning models to find new customers and drive more conversions for your business.
Watch this video to learn more about audience signals in Performance Max.
Check out more detailed best practices on how to reach your goals with Performance Max campaigns