Find your reservations, flight info, and more in Maps
Search Google Maps on your mobile device for your upcoming flights, reservations, and more. As long as you're signed in, you can find stuff that's in your Gmail without having to leave Maps. Of course, content which is private to you will only be seen by you, and only when you're signed in.
Currently, this search capability is only available for the United States.
See results from your Google products
The easiest way to see your information is to search for a restaurant, venue, airport, or other location. The reservation or calendar information will appear in the card for that place.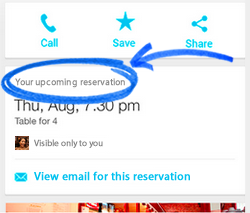 For example, say you're going to Hawaii for vacation and you have a departing flight from San Francisco. Search for san francisco airport to get reservation details for your upcoming flight.
How it works
You can search for content from your Google products if you're signed in to your Google Account with Web History turned on.
Privacy of your results
Only you can see the search results that come from your Gmail account, and only when you're signed in to Google.
How to turn it off
To disable this feature, turn off your Web History.