About Google Fiber TV apps
Your Google Fiber TV includes the following TV apps that provide quick and easy access to additional content, without the need to switch to another device or TV input:
Netflix: Get unlimited streaming of thousands of movies, TV shows, and documentaries in HD for a monthly fee. Some of the content is exclusive to Netflix. To use the Netflix app, you'll need to activate Netflix on your Fiber TV Box.
VUDU: Rent streaming movies in SD or HD, and purchase movies you can stream any time. To use the VUDU app, you'll need to activate VUDU on your Fiber TV Box.
YouTube: Watch shared video content, such as video clips, TV clips, instructional videos, music videos, and more. You can access YouTube with or without a free account.
Weather: Get hourly and daily weather reports right on your TV. You don't need to activate this app.
To access apps on your Fiber TV:
Press
on the remote control, select Apps, and press ok.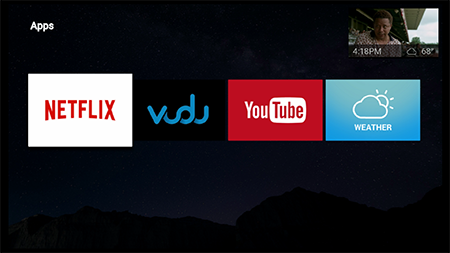 Using your remote with TV apps
Many of the functions on your remote control work with TV apps. However, because navigation and content organization in TV apps are different from Fiber TV, the following functions don't work:
Learn more about remote control functions
To exit a TV app:
To return to live TV, press
on the remote.