The enhanced Smart Fill in Google Sheets is rolling out gradually, and it may not be available to you yet.
Important: This article is referring to Google Workspace Labs, which is a trusted tester program for users to try new AI features. The Workspace Labs program is currently available to trusted testers in US English, and may not be available in your country. To check if you have access to Workspace Labs program features, open a new sheet on Google Sheets and look for "Help me organize"

sidebar on the right side of the sheet
On Google Sheets, enhanced Smart Fill suggestions can make manual text processing tasks easier for you by automatically detecting the relationship between incomplete column pairs and using AI to predict the remaining values, allowing them to be instantly filled.
This feature is currently available on desktop.
Before you use Workspace Labs
Workspace Labs feature suggestions don't represent Google's views, and should not be attributed to Google.
Don't rely on Workspace Labs features as medical, legal, financial or other professional advice.
Workspace Labs features may suggest inaccurate or inappropriate information. Your feedback makes Workspace Labs more helpful and safe.
Don't include personal, confidential, or sensitive information.
Google uses Workspace Labs data and metrics to provide, improve, and develop products, services, and machine learning technologies across Google. When you interact with Workspace Labs features, Google collects your Workspace Labs data, including your prompts and input, prompt and input refinements, generated output, generated output refinements, and feedback. Google also collects metrics on the usage of these features.
To help develop Workspace Labs features, human reviewers may read, annotate, and process your Workspace Labs interactions data.
You can review the Google Workspace Labs Privacy Notice and Terms of Service.
Use AI to fill out your Sheets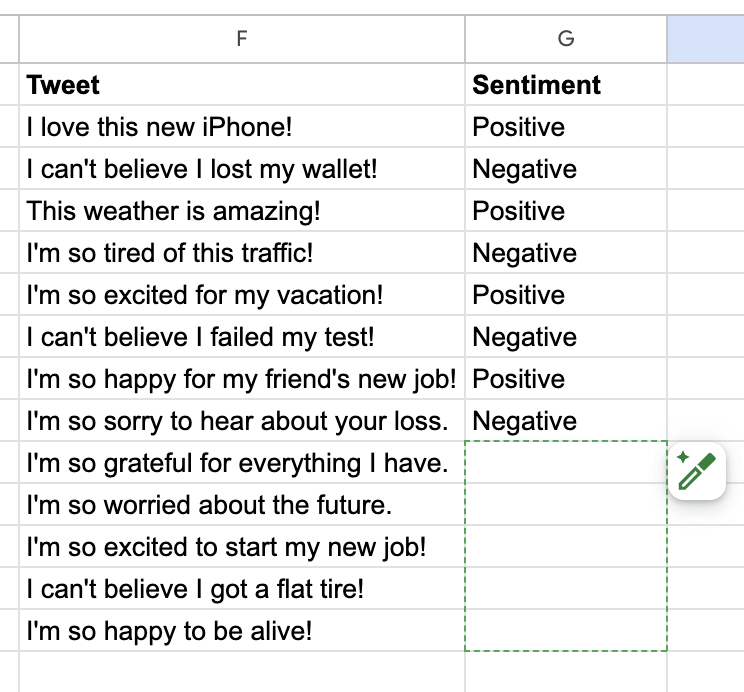 You can see enhanced Smart Fill suggestions in two ways:
Once an edit has been made in the file.
Live suggestions: enhanced Smart Fill can appear while you're doing manual text entry. It appears as soon as Sheets sees it has a prediction available.
Note:
The outline indicates the range Sheets can predict and you can hover over the icon

to see the fill suggestions.
When you see enhanced Smart Fill suggestions, you can:
Accept the suggestion by clicking the suggestion bubble.
Reject the suggestion by clicking the cancel icon on the expanded suggestion pill to reject that suggestion for the range.
Example use cases of enhanced Smart Fill:
Categorize feedback by theme
Organize news article by topic
Convert address data to consistent format
Extract phone numbers from text fields
Give feedback on generated suggestions
If you get a suggestion that's inaccurate or that you feel is unsafe, you can let us know by submitting feedback. Your feedback can help improve AI-assisted Workspace features and broader Google efforts in AI.
To submit feedback:
Click the three dot menu in any suggestion.
Click Send feedback to send feedback.
To provide general feedback on this feature, at the top, go to Help > Help Sheets improve.
To report a legal issue, create a request or go to Send feedback > Report an issue or Suggest an idea > click Legal Help at the bottom of the sidebar.
Turn off from cell
Click the three dot menu in any suggestion.
Uncheck Enable enhanced Smart Fill suggestions.
Turn off from menu
Select Tools > Autocomplete

Uncheck Enable enhanced Smart Fill suggestions.
To turn on enhanced smart fill again after turning it off, follow the same path and check Enable enhanced Smart Fill suggestions.
Notes:
Once turned off, all active suggestions (and all other suggestions) that are not accepted or rejected will be removed from all your sheets.
Turning off enhanced Smart Fill will not opt you out of receiving Smart Fill suggestions. You can use Smart Fill for tasks like extracting the first name from a given list of full names or finding values in a range or table. Learn more about Smart Fill here if you wish to opt-out of those suggestions.
You can also turn off enhanced Smart Fill suggestions by existing the Labs program. If you exit, you will permanently lose access to all Labs program features, and you won't be able to rejoin the Labs program. Learn more about how to exit Labs in Google Workspace.
Related resources