Important
: This article is referring to Google Workspace Labs, which is a trusted tester program for users to try new AI features. The Workspace Labs program is currently available to trusted testers in US English, and
may not be available in your country
. To check if you have access to Workspace Labs program features, open a new sheet on Google Sheets and look for "Help me organize"

sidebar on the right side of the sheet
On Google Sheets, you can use the "Help me organize" prompt to create tables using artificial intelligence. You can use the prompt to:
Create a new table with generated column headers and example table contents. For example, you can ask Google Sheets to draft a trip planner or a task tracker.

Note: "Help me organize" currently cannot be used to edit or refer to existing content in your spreadsheet.
This feature is currently available on desktop.
Before you use Workspace Labs
Workspace Labs feature suggestions don't represent Google's views, and should not be attributed to Google.
Don't rely on Workspace Labs features as medical, legal, financial or other professional advice.
Workspace Labs features may suggest inaccurate or inappropriate information. Your feedback makes Workspace Labs more helpful and safe.
Don't include personal, confidential, or sensitive information in your prompts.
Google uses Workspace Labs data and metrics to provide, improve, and develop products, services, and machine learning technologies across Google.
Your Workspace Labs Data may also be read, rated, annotated, and reviewed by human reviewers. Importantly, where Google uses Google-selected input (as described in the Privacy Notice) to generate output, Google will aggregate and/or pseudonymize that content and resulting output before it is viewed by human reviewers, unless it is specifically provided as part of your feedback to Google.
You can review the Google Workspace Labs Privacy Notice and Terms for Personal Accounts.
How Labs program data in Google Sheets is collected
When you use the "Help me organize" prompt in Google Sheets, Google uses and stores the following data:
Prompts you enter
Generated table
Your feedback on generated table
You can review the Google Workspace Labs Privacy Notice and Terms of Service.
Use AI to organize and track your data in Sheets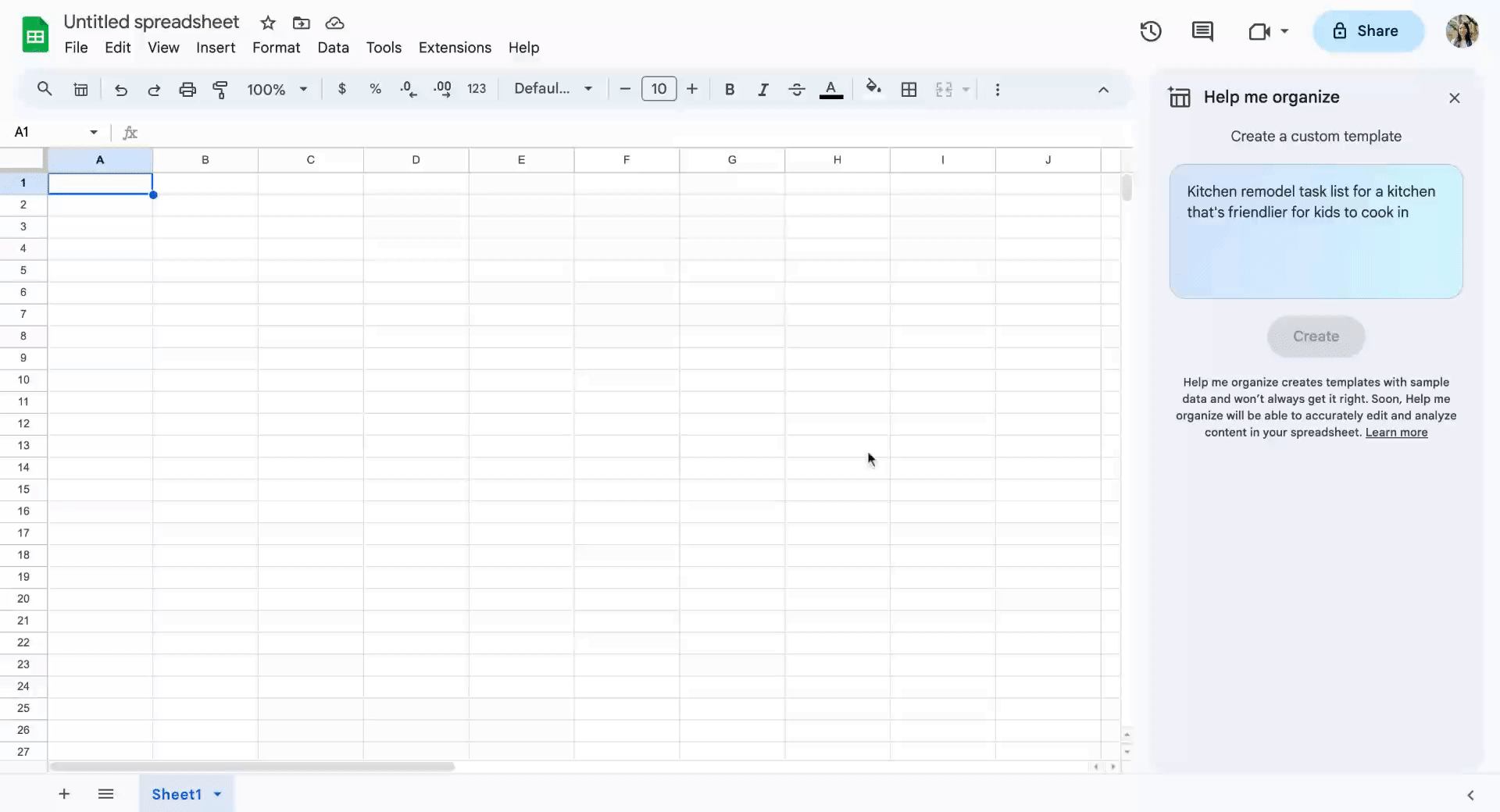 On your computer, open a new spreadsheet or tab in Google Sheets. The Help me organize sidebar will automatically open.
Tip:
you can also access Help me organize

via the toolbar or Insert menu.
Enter a prompt. For example:

"Plan a hiking trip in iceland"
"Tracking tasks for a project to build a new website"
"Planning a sales kick off event"
Tip: For better results, write instructions instead of questions. For example: "Wedding planner to-do list with status updates and due date"
Click Create.
(Optional) After generating a table, you can:

Send feedback about the suggested table: Click Good suggestion for a table that fulfills your request or Bad suggestion for a table that does not meet your needs.
Edit your prompt: At the top of the sidebar, click the prompt. Edit your prompt and click Create.
Create a new version of the table: Click Create.

Important: After creating a new version, you can't go back to the previous version.

When you're finished, in the preview, click Insert.
Note: For best results, use "Help me organize" in a new tab. If you use the "Help me organize" prompt in a tab that already has data and insert the generated result, it will overwrite any existing data it replaces.
Give feedback on a generated table
If you get a suggestion that's inaccurate or that you feel is unsafe, you can let us know by submitting feedback. Your feedback can help improve AI-assisted Workspace features and broader Google efforts in AI.
Below the generated text, click Good suggestion or Bad suggestion.
If you click Bad suggestion , you can select the issue you found and enter additional feedback.
Click Submit.
To provide general feedback on this feature, at the top, go to Help > Help Sheets improve.
To report a legal issue, create a request.
Turn off the "Help me organize" prompt
To turn off any of the features on Google Workspace Labs you must exit Workspace Labs. If you exit, you will permanently lose access to all Workspace Labs features, and you won't be able to rejoin Workspace Labs. Learn more about how to exit Workspace Labs.
Related resources