Voice search and voice actions on Chrome
You can speak into your Google Chrome browser to search, get directions, send messages, and perform other common tasks. If you ask a question, your answer may be spoken back to you.
Before you get started, make sure you have a working microphone either built in to your device or connected externally.
Voice Search
How to search using your voice
Click on the microphone icon on the right side of the search box.

When the Speak Now alert appears, say your search terms.
After you click the microphone icon, Google listens as you speak and initiates your search. If Voice Search doesn't understand you, it lists a set of possible meanings and you can click the one you want.
Voice search examples
You can use voice search to find an answer to the question that's on your mind, or to find information about the people in your Google Contacts list, such as their age, birthday, phone number or mailing address.
Weather: What's the weather like tomorrow morning?
Contacts: What is Lindsay's phone number?
Locations: Where's the nearest pharmacy?
Flight status: When does United Airlines flight 900 depart?
Time: What time is it in London?
Events: When is sunset?
Translation: How do you say cucumber in Spanish?
Sports: When is the Red Sox game?
Trivia: How tall is the tallest building in the world?
Images: Show me pictures of the Golden Gate Bridge
To improve processing of your voice input, Google may record a few seconds of ambient background noise in temporary memory at any time. This recording remains on the device only fleetingly and is not sent to Google.
Troubleshoot voice search errors
Voice Search errors
If you encounter issues using Voice Search you may see one of the error messages below.
Please check your microphone and audio levels: If you see this message something may be wrong with your microphone. Check your microphone to ensure it's plugged in and powered on. Chrome may not be able to detect your voice if your microphone is muted or on a low level, so please ensure your voice input levels are correct.
Hear your answer
Spoken answers are supported in German, French, and Japanese. Spoken answers beta are available for Russian, Spanish, Italian, Korean and Brazilian Portuguese. Certain responses may not be supported in every language.
If you ask your question to Google on Chrome, the answer can be spoken to you. Spoken answers are only supported in English and select languages at this time.
This feature is turned on by default for voice search. To turn off the feature:
Visit the Search Settings page.
Go to the "Spoken Answers" section and click Just show text.

Click Save.
Voice Actions
Use your voice to create an event, call someone, or set a reminder.
Start a voice action
If you aren't signed in already, click the blue Sign in button in the top right corner.
Click the microphone icon .
Tell Google what you want it to do for you.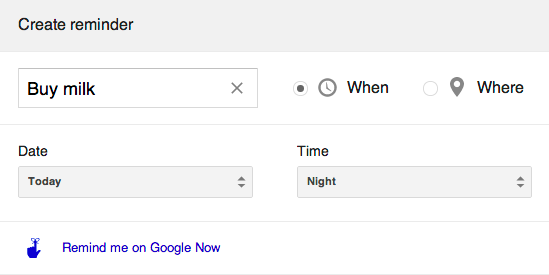 Try it out:
Create an event on Google Calendar: Add an event dinner with Brittney for Friday at 8:30pm.
Call a friend from your Google Contacts: Call Lindsay.
Set a reminder on Google Now: Remind me to pick up bread at Trader Joe's.
Requirements
Update to the latest version of Chrome.

If you already have Chrome installed, click the Chrome menu and select About Google Chrome to check for a new version. If you don't have Chrome, you can download Google Chrome.

Make sure your computer has a working microphone.

Make sure your computer has a working microphone. While some laptops and desktops have built-in microphones, others require external ones. You should be able to test the microphone in your computer's audio settings in system preferences or control panel.

Windows microphone setting

Mac microphone setting