Voice search and voice actions on Chrome
You can speak into your Google Chrome browser to do things like search, get directions, and send messages. For example, you can ask Google what the weather will be like tomorrow, or have it set up a reminder for you to pick up laundry detergent at the grocery store.
Set up voice search
Update to the latest version of Chrome
If you already have Chrome installed, click the Chrome menu > About Google Chrome to check for a new version. If you don't have Chrome, you can download Google Chrome.
Set up a microphone on your device.
While some laptops and desktops have built-in microphones, others require external ones. You should be able to test the microphone in your computer's audio settings in system preferences or control panel.
Start a voice search
Click on the microphone icon on the right side of the search box.
When the Speak Now alert appears, say your search terms.
After you click the microphone icon, Google listens as you speak and initiates your search. If Voice Search doesn't understand you, it lists a set of possible meanings and you can click the one you want.
Voice search examples
Weather: Do I need a jacket tomorrow?
Locations: Where's the nearest pharmacy?
Flight status: When does United Airlines flight 900 depart?
Time: What time is it in London?
Events: When is sunset?
Math: What is the square root of 2209?
Translation: How do you say cucumber in Spanish?
Sports: When is the Boston Red Sox game?
Trivia: How tall is the tallest building in the world?
Conversions: How many dollars is 2600 rupees?
Images: Show me pictures of the Golden Gate Bridge.
Hear answers to questions you ask Google
If you ask your question to Google on Chrome, the answer can be spoken to you. Spoken answers are turned on by default.
Availability
Spoken answers are supported in English, French, German, Japanese. Spoken answers beta are available in Italian, Brazilian Portuguese, Russian, and Spanish. Certain responses may not be supported in every language.
Turn spoken answers on or off
Go to the Search settings page.
Go to the "Spoken answers" section.

To hear spoken answers, select Speak answers for voice search.
To turn off spoken answers, select Just show text.

Click Save.
Voice Actions
Use your voice to create an event, call someone, or set a reminder.
Start a voice action
If you aren't signed in already, click the blue Sign in button in the top right corner.
Click the microphone icon .
Tell Google what you want it to do for you.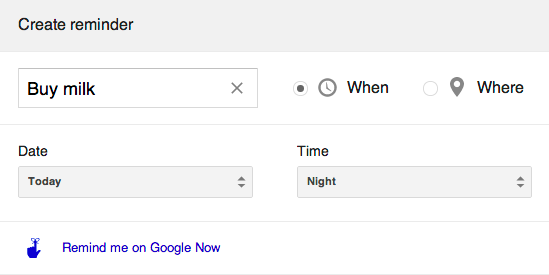 Try it out:
Create an event on Google Calendar: Add an event dinner with Brittney for Friday at 8:30pm.
Call a friend from your Google Contacts: Call Lindsay.
Set a reminder on Google Now: Remind me to pick up bread at Trader Joe's.
Troubleshoot errors
"Please check your microphone and audio levels."
If you see this message something may be wrong with your microphone. Check your microphone to make sure it's plugged in and powered on. Chrome may not be able to detect your voice if your microphone is muted or on a low level, so check if your voice input levels are correct.
"Please check your microphone and audio levels: Voice Search has been turned off."
If you see this message, Chrome may not have permission to use your microphone. Learn how to allow Chrome to access your microphone.
Voice search errors on your Chromebook at work or school
Your network administrator may control your media settings for your Chromebook. Reach out to them to see if these settings can be updated. Learn about using a managed Chrome device.
Mac microphone settings
Windows microphone settings