Use your watch to find your phone
If you ever lose your phone, Android Wear can help you find it. You can use your watch to make your phone start ringing, as long as your watch and phone are connected via Bluetooth and your phone is close enough that you can hear it ring.
It doesn't matter if your ringer is turned off and your phone is set only to vibrate, using this feature will always make your phone ring.
Here's how:
Say "Ok Google" or tap anywhere on the background of the screen.
(Optional, if your watch is running Android Wear 2.0 and up: Press the power button until the screen says "Hi, How can I help?")
Say "Find my phone."
Scroll and tap Start .
Tap Find my phone .
Tip: You can also use Find My Device to remotely find, lock, or erase your Android devices. Learn how.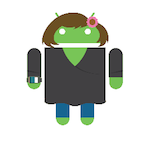 Andrea is an Android expert and author of this help page. Help her improve this article by leaving feedback below.
Was this article helpful?
How can we improve it?