Listen to music on your watch without your phone
If your watch has a built-in speaker or is paired with a Bluetooth audio device, you can listen to music on your watch without your phone. Learn how to pair Bluetooth devices like headphones.
If you're playing music on your phone, you can also control Play Music and other apps from your watch.
Note: We recommend not listening to music at high volumes for long periods of time.
Use Play Music on Android Wear 2.0
Learn how to check your version of Android Wear.
When you sign into Play Music
on your watch, you can play any likes, playlists or album purchases you've made with the same Google account. Play Music on Android Wear can't play podcasts at this time.
Tip: If you see this Music App
, follow these steps to play music on your watch.
Stream music
To get started, make sure your watch is connected to Wi-Fi or LTE. If you see Downloaded only
on the top of your screen, try these steps to make sure you're connected to a network.
On the side of your watch, press the power button.
From the list of apps, tap Play Music.
When you see "Connected", start playing music by tapping any of the Play icons.
You'll be asked to set up your bluetooth headphones if you haven't already.
You can listen to any albums or playlists you've added to the Play Music Google account. To look for music on a different account, swipe down from the top of the screen and tap Settings
. From the Settings screen, scroll down and tap the new profile.

Tip: To get the most out of streaming music, fully charge your watch before you start.
Add music to stream from your watch
Your watch can only play music that is already on your Play Music account. To add music to play on your watch: On your mobile device or computer, create or add to an existing playlist.
Troubleshoot music not playing
If you see Disconnected
, or if you're having trouble streaming music from your watch, make sure your watch is connected:
If your watch screen is dim, tap it to wake the watch up.
Starting from the home screen, swipe down from the top of the screen.
Tap Settings Connectivity.
Choose or add a new Wi-Fi connection, if you don't have one already.
Note: When your watch is not connected, you will only see music you've downloaded before.
Download music to listen to offline
If you have paid for a Play Music subscription, purchased music from Play Music, or have uploaded your own music to Play Music, you can listen to music offline. To download music, press and hold the album or playlist.
To remove downloaded music from your watch, touch and hold an album or playlist that you've already downloaded.
More you can do with music
Open the song playing
To get back to your Play Music screen: From the home screen, swipe up from the bottom of the screen and scroll up until you see the music notification.
Change app settings
To get to the settings menu: When you have the app open, swipe down from the top of the screen, then tap Settings
. From here, you can choose:
Download only Wi-Fi
Stream only on Wi-Fi
See "Downloaded only" music
Your Play Music account
Common questions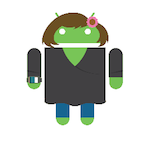 Andrea is an Android expert and author of this help page. Help her improve this article by leaving feedback below.
Was this article helpful?
How can we improve it?