Turn airplane mode on or off
If you're on a plane or in any other situation where you want to turn off the watch's wireless or mobile data connection, you can put the watch in airplane mode.
Follow these steps:
If your screen is dim, tap the screen to wake up the watch.
Swipe down from the top of the screen.

Android Wear 2.0 and up: Tap Airplane mode.
Android Wear 1.5 and below: Swipe left and tap Settings Airplane mode .
Tip: For another way to get to Settings, say "Ok Google, Settings" from your active watch face.
Learn about what still works when your watch is in airplane mode.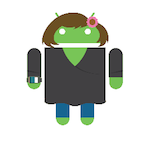 Andrea is an Android expert and author of this help page. Help her improve this article by leaving feedback below.
Was this article helpful?
How can we improve it?