Read and reply to messages & texts
You can read and reply to texts and messages, see who's calling, and more from your watch. Check out the examples below to learn about how you can chat with friends on Android Wear.
Language availability for voice tips
Most of the tips below work if your language is set to English, French, German, Italian, Japanese, Korean, Russian, Spanish, or Brazilian Portuguese. Some voice actions are not available in all languages and countries.
Read and reply to texts & messages from your Android
You can use your favorite messaging apps with Android Wear, including Hangouts.
Read a text or message
Send an instant message
You can send instant messages with just your voice using the following apps:
Speak to send an instant message
If your watch is dim, touch your watch face to wake it up.
Say "Ok Google." You'll see a white screen with a microphone .
Say the name of the person you want to message and specify the app you want to use. You can say a phrase like the following:
"Send Kirsten a WhatsApp message saying 'I'm running 5 minutes late'".
"Send a WhatsApp message to Kirsten that I'm going to pick up dinner".
"Tell Kirsten I'm on my way using WhatsApp".
"Send a WhatsApp message to Kirsten."
Note: If you do not mention the name of one of the apps listed above, your message will be sent as a text (SMS) message.
If you are using Hangouts, learn how Hangouts works with Android Wear.
Send an instant message from a contact
If your watch is dim, touch your watch face to wake it up.
Swipe from right to left 2 times until you see your list of top contacts.
Touch the contact's name.
Touch the messaging app to send the message from.
Speak your message.
You'll see a checkmark when your message was sent.
Reply to a text or instant message
When paired to an Android device, to reply with a pre-written message: Swipe the arrow from the bottom to the top of the screen, then touch a message.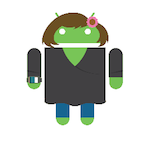 Andrea is an Android expert and author of this help page. Help her improve this article by leaving feedback below.
Was this article helpful?
How can we improve it?