What's different for Android Wear 2.0
Whether you are new to Android Wear or have just updated your watch to Android Wear 2.0, read the article below to learn how to get around your watch.
Use Google Accounts, apps and your Google Assistant on your watch
When you sign in to the Play Store on your watch, you decide which apps to download right on your watch.
Handwrite on or use your watch's virtual keyboard
Along with using your voice, you can also type messages directly on your watch's screen if it works with the app. To reply or search the Play Store by using watch's keyboard when you have the option, tap Keyboard
.
For example, you'll see the option to use the keyboard when replying to messages in apps like Hangouts.
Customize watch faces with helpful info
Along with being able to change your watch's background, you can also customize watch faces with information from apps, such as steps from Fit or number of notifications. From the home screen, swipe right or left to choose a new watch face. Learn how to change and customize different watch face.
Set goals with Fit
You can sync your pace, distance, calories and heart rate as you exercise. Set goals for indoor workouts like treadmill, indoor cycling and stair climbing. Google Fit also includes strength training challenges such as sit-ups, push-ups, squats, and weightlifting.
To get started using Fit on your watch, open the Fit app. Learn how to use Google Fit on your watch.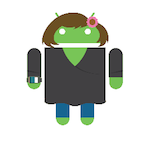 Andrea is an Android expert and author of this help page. Help her improve this article by leaving feedback below.
Was this article helpful?
How can we improve it?