Get started with Android Wear 2.0
If you're upgrading from Android Wear 1.5 and below, you'll see some changes and new features. Learn how to check your watch's version of Android Wear.

See apps, settings, and notifications
See apps: Press the power button on the side of your watch.
Change settings: Swipe down from the top of your watch's screen and choose a setting.
Checking notifications: When you see a dot at the bottom of the screen, you have a notification waiting.

To see notifications, swipe up from the bottom of the screen.
To see more information, tap the notification.

Go to the Home screen: Press the power button.
Get apps from the Play store
When you first set up Android Wear 2.0, you'll sign into a Google Account. You'll use this account to download apps from the Play store.
Finish setting up your watch with the Google account you want to use.
To see a list of your apps, press the power button.
Tap Play Store.
With the Play Store, you can download a variety of apps designed for your watch. In some cases, these apps connect with the same app on your phone for even more features. Learn more about apps on your watch.
Note: If you factory reset your watch, you will need to download your apps again.
Speak or write a message
You can use your voice, a keyboard, or your finger to write text on your screen. Depending on your app, you'll see these options:
Write a message: Tap the Keyboard .
Say your message: Tap the Microphone .
Ask the Google Assistant questions
When you ask the Google Assistant questions, you'll see the response on your watch's screen.
Press and hold the power button until you see "What can I help you with?"
Ask a question. You can ask about anything from the news to your calendar events.
Customize your home screen
You can change your home screen to show information from apps. You can see information about your progress from GoogleFit, like steps you've taken or the number of notifications waiting for you.
From the home screen, swipe right or left.
Choose the info you want to see on your home screen. To see more options, go to the Play Store.
You can get more from the Play Store, you can learn how to customize your watch face.
Keep track of your fitness
Note: Fitness sensors such as the heart rate monitor, if available on your device, are intended for leisure, well-being, and fitness purposes only and are not intended for medical use.
When you use Google Fit on your watch, you can track your pace, distance, calories, and heart rate as you exercise. You can even track your progress towards your goals, like how many pushups or situps you're able to do.
To start tracking your health and fitness, learn how to use the Fit app on your watch.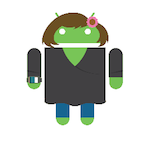 Andrea is an Android expert and author of this help page. Help her improve this article by leaving feedback below.
Was this article helpful?
How can we improve it?