What is Android Pay?
Watch this video to find out what Android Pay does.
Android Pay is much more than an app. It's a way to easily pay in stores, on the web, and in apps without having to get your card from your wallet.
It's also fast, easy, and secure. If you don't already have the app, get it on Google Play.
Leave your cards at home
With Android Pay, you can use your Android phone to pay quickly and easily. No more digging through your purse or wallet for the card you want to use.
Making your first Android Pay purchase is simple.
Make sure you've added a debit or credit card to the app.
When it's time to checkout, hold your Android phone near the payment terminal for a few seconds. (You don't even need to open the app.)
When you see the check mark, you're all set. Finish up with a signature or take your receipt – the same way you would if you swiped your card.
You'll enjoy all the same rewards, benefits, and protections you're used to from your bank.
Where Android Pay is accepted
Clothing retailers, grocery stores, pharmacies, restaurants, and other shops accept Android Pay. Just look for the contactless logo at checkout to see if the store accepts mobile payments.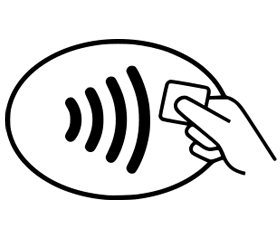 Save time shopping online
Why enter your credit card information again and again every time you want to buy something online? Android Pay makes it easy to buy things on the web or in a mobile app. After your payment info is stored in the app, you'll be able to breeze through checkout with a single tap.
On the web: Check out on online stores where you buy clothes, household goods, vitamins, and more.
In apps: Pay for ride-sharing and delivery service apps, as well as retail goods through clothing, ticketing, and other apps.
Which websites accept Android Pay?
Hundreds of websites and apps accept Android Pay as a payment method. Just look for one of these buttons.
See a list of major apps and websites that accept Android Pay.
Loyalty & gift cards at your fingertips
When we say leave all your cards at home, we mean it. You can also add loyalty and gift cards to Android Pay. That way, you can continue earning rewards at your favorite stores or cash in on your birthday gift.
When you're ready to pay, just open the Android Pay app, choose the card you want to use, and ask the cashier to scan the barcode.
Fast, free, and super safe
It doesn't cost you anything to use Android Pay to make lightning-fast purchases. When you pay, your payment information is encrypted and represented by a virtual account number (instead of your real account number), ensuring a safe transaction between you and the merchant.
Learn more about how Android Pay ensures safe mobile payments.
Accept Android Pay at your business
If you're already set up to accept contactless payments, your business will accept Android Pay. If not, get started learning how to accept mobile payments with Android Pay.