Monitor
Share Dashboards
Dashboards are available only to you until you share them. If you develop a dashboard that you think is useful to other users in your account, or to other Analytics users in general, you have two sharing options, outlined below.
To share a dashboard:
Click Share in the Action Bar.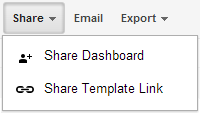 Click Share Dashboard to make the dashboard available to all other users in that view.
Click Share Template Link to generate a URL you can copy and send to other users or host in a document or on a site.
When you share a dashboard via a template, you share only the settings for the dashboard--you do not share any data. You can send the link to anyone with an Analytics account, and that person can then import the settings.
To learn more about sharing via templates, see Share Customizations via Templates.