Search Network
A group of search-related websites where your ads can appear. These include Google search sites and non-Google search sites (like AOL) that partner with Google to show search ads, called search partners.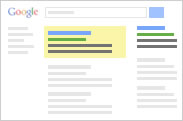 When you advertise on the Search Network, your ad can show next to search results when someone searches for your products or services using terms related to one of your keywords.
The Search Network includes Google Search, Shopping, Maps, Images, and Groups, as well as search partner sites like AOL.
Ads are matched to search results pages based on the terms or phrases someone searches. For example, a search on Google for "home plumbing repair" might show an ad that uses that phrase as a keyword.
The Search Network is part of the Google Network, our name for all the webpages and apps where AdWords ads can appear.
When to use the Search Network
When you create a new campaign, you'll be asked to choose a campaign type which, among other things, determines the networks where your ads can show. Think about your business goals when deciding which networks to use.
Here are some general recommendations for when to use the Search Network:
You're relatively new to AdWords
You want your ads to appear next to Google search results
You only want to reach customers searching for your specific product or service
Example
You have a small but busy home repair business that earns the most revenue from plumbing repairs. A "Search Network only" campaign type with "Standard" settings lets you skip all of the advanced settings and just target your ads towards high potential customers searching for home plumbing services.